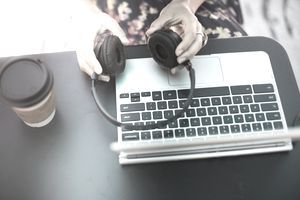 Industry:
Captioning, transcription
Company Description:
California-based family captioning business offers transcription services for video producers and broadcasters that go beyond captioning to areas such as digital file delivery, translation and voice dubbing. Formerly known as Aberdeen Captioning, the company, which was founded in 2001, changed its name to Aberdeen Broadcast Services to reflect its expanding role in areas such as language services like translation, multi-language subtitling and voice overs. Its three divisions are AberFast, AberCap, and AberLingo.
Types of Work-at-Home Opportunities at Aberdeen Captioning:
Many of the positions (caption editors, sales exec, translators) listed on its website are at its in-house in its facilities in Orange County, CA; however, it does offer work-at-home jobs in:
Real-time captioning - Hires experienced freelance real-time captioners with speeds of 180-220 WPM for live captions or live-to-tape programming. Knowledge of Bible/Christian terminology is needed for some positions. Freelancers should have their own real-time, closed-captioning software, a back-up computer and three phone lines (one can be a cell). Pays up to $75 per hour.
Transcription - Hires transcriptionists for video clips. These jobs are very typical of the home typist jobs. You are required to have a foot pedal, transcription software professional headphones, and Windows media player installed. Excellent grammar and punctuation skills as well as knowledge of Christian terminology are required. Pays $1-$1.50 per audio minute.
Translation - Hires freelance linguists who have five years experience as a professional translator, a university degree and native fluency for translating subtitles, voice overs and creating subtitles using subtitling software.
Applying to Aberdeen Captioning:
Go the Aberdeen Caption's careers page and search through the job postings. Notice how they are color coded for "hiring," "accepting applications" and "closed." Be sure to note whether they are work-at-home positions.
To apply, email your cover letter and resume to info@abercap.com, carefully following the application submission instructions in the posting. In the subject line, write your name and the name of the position. Aberdeen will only respond to applicants it wants to move to the next level. It will not respond to calls from those who have not been contacted.
For more jobs, see these work-at-home company lists, but be sure to know the signs of a data entry scam.
Similar Companies:
Disclaimer: Advertisements for work at home jobs or business opportunities placed on this page in the section labeled "Sponsored Links" or elsewhere are not necessarily legitimate. These ads are not screened by me but appear on the page due to having similar keywords to the text on the page. More on sponsored links to work-at-home jobs.