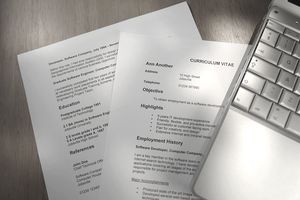 A curriculum vitae (or "CV") written for academia should highlight research and teaching experience, publications, grants and fellowships, professional associations and licenses, awards, and any other details in your experience that make you the best candidate for a faculty or research position advertised by a college or university.
What to Include in Your CV
It's important to take it a step further and tailor your curriculum vitae so it stands out from the crowd and so the content reflects your audience - the organization and the department that you want to work for.
The job description and your own research of the department you are applying to will tell you the primary qualifications and, especially, the work capabilities the hiring committee is seeking in its new member.
Has this department traditionally valued publication over teaching when it makes tenure and promotion decisions? If so, then you should describe your publications before listing your professional / teaching experience. If, however, you are applying to a community college that prides itself on the quality of its instruction, your teaching accomplishments should have pride of place. In this case, the experience section (in reverse chronological order) should proceed your publications section.
The following curriculum vitae format will give you an example of what to include in your academic CV and shows the appropriate format for a curriculum vitae. Also see below for an example of a curriculum vitae written for academia.
Academic Curriculum Vitae Format
CONTACT INFORMATION
Name
Address
City, State, Zip
Telephone
Cell Phone
Email
SUMMARY STATEMENT (Optional)
Include a brief list of the highlights of your candidacy.
EDUCATION
List your academic background, including undergraduate and graduate institutions attended.
Graduate Institution, City, State
Degree, Major
Date of Graduation
Dissertation Title
Dissertation Advisors
Graduate Institution, City, State
Degree, Major
Date of Graduation
Thesis Title
Thesis Advisors
Undergraduate Institution, City, State
Degree, Major
Date of Graduation
EMPLOYMENT HISTORY
List in chronological order, include position details and dates.
POSTDOCTORAL TRAINING 
List your postdoctoral experiences, if applicable.
FELLOWSHIPS
List internships and fellowships, including organization, title and dates.
LICENSES / CERTIFICATION
List type of license, certification or accreditation and date received.
PUBLICATIONS / BOOKS
PROFESSIONAL AFFILIATIONS
SKILLS / INTERESTS
Academic Curriculum Vitae Example
John Smith 
Street, City, State, Zip
Phone: 555-555-5555
Cell: 555-666-6666
email@email.com

Education:

Ph.D., Psychology, University of Minnesota, 20XX
Concentrations: Psychology, Community Psychology
Dissertation: A Study of Learning Disabled Children in a Low-Income Community
Disseration Advisors: Susan Hanford, Ph.D., Bill Andersen, Ph.D., Melissa Chambers, MSW
M.A., Psychology, University at Albany, 20XX
Concentrations: Psychology, Special Education
Thesis: Communication Skills of Learning Disabled Children
Thesis Advisor: Jennifer Atkins, Ph.D. 
B.A, Psychology, California State University, Long Beach, CA, 20XX
Experience:
Instructor, 20XX – 20XX
University of Minnesota
Course: Psychology in the Classroom
Teaching Assistant, 20XX – 20XX
University at Albany
Courses: Special Education, Learning Disabilities, Introduction to Psychology
Research Skills:
Extensive knowledge of SPSSX and SAS statistical programs.
Presentations:
Smith, John (20XX). "The Behavior of Learning Disabled Adolescents in the Classroom." Paper presented at the Psychology Conference at the University of Minnesota.
Smith, John (20XX). "Tailoring Assignments within Inclusive Classrooms." Paper presented at Brown Bag Series, Department of Psychology, University of Minnesota.
Publications:
Smith, John (20XX). "The Behavior of Learning Disabled Adolescents in the Classroom. Journal of Educational Psychology, volume 81, 120-125.
Grants and Fellowships:
RDB Grant (University of Minnesota Research Grant, 20XX)
Workshop Grant (for ASPA meeting in New York, 20XX)
Nelson G. Stevens Fellowship, 20XX
Awards and Honors:
Treldar Scholar, 20XX
Teaching Fellow of the Year, 20XX
Academic Excellence Award, 20XX
Skills and Qualifications:
Microsoft Office, Internet
Programming ability in C++ and PHP
Fluent in German, French and Spanish
Why, when and how to use a Curriculum Vitae, plus how to write a CV.
As a general rule, it takes more time and effort to create a curriculum vitae for academia that it does a resume for other professions. The formats of CVs will differ depending upon one's field of study and whether one is writing an international, academic, or general curriculum vitae (see examples of these various formats and additional templates here).
Are you still uncertain about whether a curriculum vitae or a resume would be more appropriate to submit to an employer? Here is the difference between CVs and resumes, as well as more information about how to write a curriculum vitae.