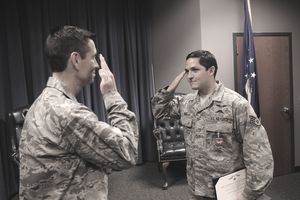 Air Force Assignments are governed by Air Force Instruction 36-2110, Assignments. Qualified people with the needed skills must be in the right job at the right time to meet the Air Force mission. At the same time, the Air Force has a responsibility to keep attuned to the demands placed on its members resulting from personnel tempo (PERSTEMPO). PERSTEMPO is a quality-of-life measurement that measures the amount of time an individual spends away from his or her home station for operational and training purposes, such as Temporary Duty (TDY) and designated dependent-restricted assignments.
Consequently, the Air Force classifies and assigns people worldwide as equitably as possible to ensure a high state of readiness. While the primary consideration in selecting personnel for reassignment is the member's qualifications to accomplish the mission, the Air Force also considers the following additional factors:
To the maximum extent possible, the Air Force will assign individuals on a voluntary basis and in the most equitable manner feasible.
The Air Force equitably distributes involuntary assignments among similarly qualified personnel, factoring PERSTEMPO where practical to minimize family separation and to avoid creating a severe personal hardship on the member.
Limitations on involuntary selection for Permament Change of Station (PCS), following some TDY, may be established to allow members to attend essential military and personal pre-PCS requirements, as well as to reduce individual and family turbulence.
Distribution of Personnel
Personnel are distributed to meet the overall needs of the Air Force as follows:
According to law and DoD and Air Force directives and instructions.
As equitably as possible between MAJCOMs within a specialty and grade.
According to guidance from the Air Staff functional area offices of primary responsibility (OPR) (functional managers).
As directed by the designated assignment authority as outlined in AFI 36-2110.
Assignment Policy and Procedures
Equal Opportunity. The Air Force assigns members without regard to color, race, religious preference (except chaplains), national origin, ethnic background, age, marital status (except military couples), spouse's employment, education or volunteer service activities of spouse, or gender (except as provided for by statute or other policies).
Special Experience Identifier (SEI). The SEI system complements the assignment process and is used in conjunction with the grade, AFSC, AFSC prefixes and suffixes, etc., to match uniquely qualified individuals to special requirement jobs. SEIs may be used when specific experience or training is critical to the job and no other means is appropriate or available. The SEI system is also used to rapidly identify personnel to meet unique circumstances, contingency requirements, or other critical needs. Manpower positions are coded with an SEI to identify positions that require or provide unique experiences or qualifications. The personnel records for individuals who earn an SEI are similarly coded. An example of this would be a slot which requires a person who has training and experience on a specific type of mainframe computer.
To fill that specific assignment, the Air Force would look at personnel who had that specific special experience identifier in their military records. Note: While some assignments require special experience, the vast majority of Air Force enlisted assignment slots do not.
Security Access Requirement. Manpower positions often require members assigned to have access to a specified level of classified information. However, sometimes the urgency to fill a position does not allow selection of a member using PCS eligibility criteria and subsequent processing (and/or investigation for access) at the specified level. Under these circumstances, selection may be necessary from among members who currently have access or can be granted access immediately.
Grade, AFSC, and Skill-level Relationship for Assignment. CMSgts and CMSgt selects may be assigned in any AFSC or CEM code they possess or are qualified to be awarded.
Normally, airmen in the grade of SMSgt and below are selected for assignment in their Control AFSC (CAFSC). Airmen with an incompatible grade and CAFSC skill level because of retraining or reclassification are selected for assignment and allocated against requirements commensurate with their grade, regardless of their CAFSC skill level. Normally, airmen are selected based on their grade and skill level. CMSgts fill CEM code positions; SMSgts fill 9-skill level positions; MSgts and TSgts fill 7-skill level positions; SSgts and SrA fill 5-skill level positions; and A1Cs, Amn, and AB fill 3-skill level positions.
Volunteer Status and PCS Eligibility. Within a group of qualified members who meet the minimum eligibility criteria for PCS selection, volunteers are selected ahead of nonvolunteers.
Nonvolunteers qualified to fill a requirement who meet the minimum PCS eligibility criteria are selected ahead of qualified volunteers who do not. For example, time on station (TOS) is a PCS eligibility requirement. A qualified volunteer who meets the minimum TOS requirement is considered first in order of longest on station. Next, the qualified nonvolunteer who meets the TOS requirement in the order of longest on station and finally the qualified volunteer who does not meet the TOS requirement may be considered.
First-term Airmen (FTA). FTA serving an initial enlistment of 4 or more years may not be given more than two assignments in different locations following initial basic and skill training during their first 4 years of service, regardless of tour length. FTA who make two PCS moves are permitted an additional PCS in conjunction with an approved humanitarian reassignment, a join-spouse assignment, as a volunteer, or when the PCS is a mandatory move (such as returning from an OS tour at the end of the prescribed OS tour length). Low-cost moves are excluded from the two-move count (for example, an FTA being re-assigned to another base that is nearby).
Availability and Deferment. A member is considered available for reassignment on the first day of the availability month. The reasons for deferments vary. Deferments may be authorized when possible in most grades and AFSCs to maintain an equitable assignment system and also support the need for stability in certain organizations or functions.
Deferments are normally approved to preclude a member's PCS while suitability to remain on active duty is evaluated or during a period of observation or rehabilitation. Deferments also exist for such things as completion of an educational program or degree, witness for a court-martial, accused in a court-martial, control roster, Article 15 punishment, base of preference (BOP) program, retraining, humanitarian reasons, etc.
Humanitarian and Exceptional Family Member Program (EFMP) Reassignment or Deferment. The policies and procedures concerning humanitarian and EFMP reassignment or deferment are outlined in AFI 36-2110. The following paragraphs briefly discuss these policies and procedures:
The humanitarian policy provides reassignment or deferment for Air Force members to assist them in resolving severe short-term problems involving a family member. The problem must be resolvable within a reasonable period of time (normally 12 months), the member's presence must be considered absolutely essential to resolve the problem, and the member must be able to be effectively utilized in his or her CAFSC. Family members under the humanitarian program are limited to spouse, children, parents, parents-in-law, and those persons who have served in loco parentis. A person in loco parentis refers to one who has exercised parental rights and responsibilities in place of a natural parent for a minimum of 5 years, before the members or the member's spouses 21st birthday or before the members entry on active duty, whichever is earlier. While brothers and sisters are not included in the definition of family member for humanitarian consideration, a request involving a brother's or sister's terminal illness will be considered as an exception to policy.
The EFMP is a separate and distinct program from humanitarian policy. This program is based on a member's need for special medical or educational care for a spouse or child that is required long term, possibly permanently. It is not a base-of-choice program as assignment decisions are based on manning needs of the Air Force at locations where a member's special medical or educational needs for a spouse or child can be met. Under the EFMP, a member may receive a reassignment if a need arises for specialized care that cannot be met where currently assigned. A deferment from an assignment may be provided for a newly identified condition if the member's presence is considered essential. The purpose of such a deferment is to allow the member time to establish a special medical treatment program or educational program for the exceptional family member.
When granted, the initial period of deferment is usually 12 months, after which a member may be reconsidered for PCS if otherwise eligible.
Base of Preference (BOP) (Enlisted Only). The FTA BOP program is a reenlistment incentive; the career airman BOP program is an incentive for other airmen to continue an Air Force career. FTA in conjunction with reenlistment or retraining may request a PCS CONUS to CONUS or PCS from OS to CONUS. FTA in the CONUS (only) may request a BOP to remain in place. A PCS BOP is not authorized from CONUS to OS or OS to OS. An in-place BOP is not authorized for airmen assigned OS. Career airmen may request a BOP to remain in place at a CONUS location.
Assignment of Military Couples (Join Spouse). Each member of a military couple serves in his or her own right. This means military couples must fulfill the obligations inherent to all Air Force members they are considered for assignments to fill valid manning requirements and must perform duties that require the skills in which they are trained. Provided these criteria are met, military couples may be considered for assignment where they can maintain a joint residence.
Permissive PCS Assignment Program. As outlined in AFI 36-2110, in very limited circumstances a member may ask for a voluntary PCS and agree to pay all expenses involved or associated with the PCS. Also, travel time is charged as ordinary leave. Members must meet all PCS eligibility criteria (for example, TOS, service retainability, etc.) for the type of move requested. The types of permissive PCS are CONUS assignment exchange and expanded permissive. Permissive PCS may not be granted based solely on the willingness of a member to move at his or her own expense.
Voluntary Stabilized Base Assignment Program (Enlisted Only). This program provides airmen a stabilized tour in exchange for volunteering for an assignment to a historically hard-to-fill location. The procedures on how to apply for the program and the list of current bases involved are listed in AFI 36-2110.
CONUS-isolated Assignment Program. Normal personnel support facilities (military or civilian) aren't available at certain CONUS stations or within a reasonable distance.
This creates a degree of hardship for personnel assigned to these stations. To prevent involuntary assignment at these locations for long periods, the Air Force established a minimum 15-month tour for single and unaccompanied personnel and a minimum 24-month tour for accompanied personnel. Individuals assigned to a CONUS-isolated station may request reassignment upon completion of the tour.
Extended Long OS Tour (ELT) Length (Enlisted Only). The ELT volunteer program applies to airmen who volunteer for PCS OS to a long-tour location (one where the accompanied tour length is 24 months or more and the unaccompanied tour length is more than 15 months). Airmen who volunteer for an ELT agree to serve the standard tour length plus an additional 12 months. Tour lengths for various OS locations are listed in AFI 36-2110. ELT volunteers are considered ahead of standard OS tour volunteers according to the priorities shown in AFI 36-2110. The 12-month extended tour period is in addition to the normal (accompanied or unaccompanied) long-tour length the member must serve. A change in status affects the service retainability that must be obtained and the tour length the airman will be required to serve. The requirement for additional service retainability may require a member to extend or reenlist and could affect selective reenlistment bonus (SRB) calculation.
Educational Deferment. Airmen who have not yet been selected for a PCS may request deferment from assignment selection when they have nearly completed high school, vocational program, or college degree requirements. Requests for deferment are processed through the education office (which will confirm eligibility).
HQ AFPC approves deferments based on the needs of the Air Force; deferments may be waived. Airmen may be deferred up to 9 months to complete high school or up to 12 months to complete a college degree.
Educational Deferment. Airmen who have not yet been selected for a PCS may request deferment from assignment selection when they have nearly completed high school, vocational program, or college degree requirements. Requests for deferment are processed through the education office (which will confirm eligibility). HQ AFPC approves deferments based on the needs of the Air Force; deferments may be waived. Airmen may be deferred up to 9 months to complete high school or up to 12 months to complete a college degree.
TDY. AFI 36-2110 provides instructions regarding TDY procedures. The maximum TDY period at any one location in a 12-month period is 179 days unless the SECAF grants a waiver.
To the degree possible, airmen are not selected for involuntary OS PCS while performing certain kinds of TDY. Additionally, if selected for involuntary PCS after one of these TDYs, the report not later than date (RNLTD) will not be within 120 days of the TDY completion date.
Dependent Care and Adoption. All military members ensure arrangements are made for care of their dependents when they must be separated due to TDY or PCS (Family Care Plan). Military couples with dependents and single-member sponsors are expected to fulfill their military obligations on the same basis as other members. They are eligible for worldwide duty and all assignments for which they qualify.
To ensure all members remain available for worldwide duty, they must have workable plans to provide parent-like care for their dependents as outlined in AFI 36-2908. Members who cannot or will not meet military commitments due to family needs will be considered for discharge. Members adopting children are given a limited time to complete the official adoption process and facilitate bonding. Individuals may be authorized deferment during the 4-month period following the date a child is officially placed in the member's home.
Time on Station (TOS) and Service Retainability
Minimum TOS requirements exist to provide continuity to a member's unit and, to the degree possible, reasonable periods of stable family life for Air Force members. Further, upon selection for PCS, a member must have or be able to obtain certain minimum periods of obligated service depending on the type of PCS move. This committed service retainability ensures a member has a period of active duty remaining long enough to offset the costs associated with a PCS. It also provides continuity to the gaining unit and stability to members and their families following PCS. Some types of PCSs require TOS periods or obligated service periods more or less than the normal limits. Refer to AFI 36-2110 for the TOS and retainability requirements for specific types of PCS.
CONUS to CONUS. For most PCS moves within the CONUS, career airmen (those who have re-enlisted at least once) must have at least 36 months of TOS, and FTA must have at least 12 months of TOS.
Special circumstances, such as completion of a training course in PCS status, have different TOS minimums. The service retainability requirement for a CONUS-to-CONUS PCS is 24 months regardless of career status. In other words, to move from one state-side base to another, one must have at least two years remaining on their enlistment period (or be willing to extend their enlistment so they have at least two years remaining).
CONUS to OS. FTA must have at least 12 months of TOS to go from CONUS to OS. Career airmen require 24 months of TOS before an OS PCS. When notified of PCS selection, members must have or be eligible to obtain sufficient service retainability to complete the full prescribed unaccompanied OS tour length. Members who do not have retainability may decline to obtain it or, if eligible, may retire instead of accepting a PCS. Declining to obtain retainability for PCS will affect a career airman by making him or her ineligible for promotion and reenlistment. FTA become ineligible for most voluntary assignments. Members who are eligible and desire that their dependents accompany them at Government expense during their OS tours must serve the "accompanied by dependents" OS tour length. This tour is normally longer than the unaccompanied tour. Electing to serve the longer accompanied tour requires the member to obtain the obligated service retainability for the longer tour. Members who are either ineligible or decline to obtain the service retainability for the accompanied tour length will not receive approval for dependent travel at Government expense or command sponsorship.
OS to OS. If a member is serving OS and is a volunteer for a PCS consecutive OS tour or in-place consecutive OS tour, the member must complete the full prescribed tour at the current location and the full prescribed OS tour at the new location or another full tour in place.
OS to CONUS. Reassignment from OS to CONUS requires the member to have or obtain at least 12 months of obligated service retainability. Members who do not have retainability will, in most cases, be retained in the OS area involuntarily until their date of separation (DOS) and returned to the CONUS for separation.
Enlisted Quarterly Assignments Listing (EQUAL) and EQUAL-Plus
EQUAL provides airmen a listing of the assignment requirements available for upcoming assignment cycles and allows airmen the opportunity to align personal preferences to actual Air Force needs. The listing identifies what assignments are available, by AFSC and grade, at particular locations. The EQUAL-Plus supplements the EQUAL and is used to advertise requirements for special duty assignments, joint/departmental assignments, short-notice OS assignments, and all CMSgt assignments.
EQUAL-Plus shows upcoming requirements, any special qualifications an airman needs to be eligible for selection, the available locations, reporting instructions, and points of contact for additional information.
Assignment Preferences (Enlisted Only)
CMSgts and CMSgt selects volunteer for assignments on EQUAL-Plus by notifying their assignment NCO at HQ AFPC/DPAC. Notification can be via telephone, e-mail, datafax, or electronic message. SMSgts and below use AF Form 392, Airman Assignment Preference Statement, to record CONUS or OS assignment preferences. To enhance the chance for selection to a desired location, airmen should consult the EQUAL and EQUAL-Plus listings.
Airmen desiring to update their preferences should visit their CSS (orderly room) or Military Personnel Flight (MPF) to update their preferences via PC-III terminal. Upon completion of the update, an AF Form 392 (computergenerated copy) is produced and given to the airman. Each airman is individually responsible for the currency and accuracy of assignment preferences. When a change in status occurs, such as marriage, the airman should update preferences accordingly. Outdated preferences or no preferences on file will not be the basis for release of an airman from an assignment for which selected. Note: The AF Form 392 has space for eight overseas preferences and eight CONUS preferences.
Non-CONUS Residents. Non-CONUS residents must meet all PCS eligibility criteria provided in AFI 36-2110. When volunteering for assignment to their home area, non-CONUS residents will have equal priority along with other volunteers within a priority group when assignment is to a short-tour location.
When volunteering for assignment to their home area as an OS extended long-tour volunteer (airmen), non-CONUS residents will receive equal consideration along with other OS extended long-tour volunteers. When volunteering for the standard OS long tour, non-CONUS residents are considered for assignment to their home area ahead of other standard OS tour volunteers.
Assignment of Family Members. Family members (parents, spouse, brothers, sisters, and children) will not be assigned to the same unit or function where one member may or will hold a command or supervisory position over the other.
PCS Cancellation
Cancellation by the Air Force. Once a member is selected for PCS and orders are published, cancellation of the assignment could impose a hardship on the member. A PCS should not normally be cancelled within 60 days of the projected departure date unless the member cannot be effectively used at the projected location. Cancellation may be authorized by the assignment OPR (Office of Primary Responsibility). If the member indicates a hardship will exist as a result of the cancellation, then the MPF will direct the member to prepare a written statement containing the details of the hardship. The statement should be coordinated through the unit commander to the MPF. Upon receipt, the MPF will advise the assignment OPR who will consider reinstatement of the original assignment, provide an alternate assignment, or confirm cancellation and provide the reasons why the member is required to remain at the present base. AFI 36-2110 contains additional information and also contains guidance in the case where a member has departed from his or her previous duty station and is en route to the new location.
Cancellation Requested by Member. Airmen who are selected for PCS, TDY, or training and who do not want to participate in an event may elect to request retirement under the 7-day option provision (assuming they have more than 20 years of service and are retirement eligible). Airmen who elect to retire are ineligible for promotion consideration and are ineligible for extension of enlistment or reenlistment, except as authorized in conjunction with a request for retirement. Aside from the 7-day option provision, airmen who do not have the minimum required retainability for the event may be eligible to decline the assignment. WARNING -- Declining an overseas assignment by refusing to obtain the required retainability usually results in immediate re-enlistment ineligibility, which -- in turn -- usually results in being ineligible for promotion.
For example, let's say a Staff Sergeant with seven and a half years of service is selected for a 12-month tour to Korea. The SSgt has only six months left on his current enlistment. If the SSgt does not agree to extend his enlistment so that he has enough time to complete the Korea tour, the assignment will be cancelled. However, that SSgt will not be allowed to re-enlist, and will not be allowed to be promoted to TSgt. He will have to separate from the Air Force (at the grade of SSgt) when his current term of service is complete. AFI 36-2110 contains complete guidance.
Above information derived from AFPAM36-2241V1