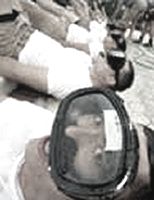 Note: Per Special Operations Command guidance, no special operator is identified by surname. Some photos have been digitally altered to remove surnames in accordance with policy for security reasons.
Mission Possible
On the edge of a glistening pool, under a cloudy Florida sky, 14 drenched men stood ready to dive in. To an observer, the only differences between them were their sizes and the names stenciled on the fronts of their white T-shirts.
It was the first week of advanced skills training at Hurlburt Field for the combat controllers. They waited for the next command from the lead instructor pacing poolside.
"Recover your mask and snorkel," the instructor barked.
Then the men plunged into the pool's 78-degree water.
Combat controllers set up air traffic control and perform close air support in remote locations. And it takes some time to groom them — more than 24 months from start to finish. Trainees go from basic to advanced special operations skills. Physical, mental and emotional toughness are essential.
Wet and wild
At Hurlburt, the trainees have already completed 35 weeks of training, including Army airborne, survival, combat control and air traffic control schools.
With just four weeks of prescuba sessions in the program, water confidence is the goal.
Students are divided into seven "buddy" teams — clutching each other's shoulders — never farther than an arm's length apart.
Although it's a little odd to see men scurrying around holding onto each other, it serves a purpose. The concept is to condition them to stay close, as an instinctual response and diving safety precaution.
And safety measures aren't just stressed underwater. Students are told not to touch the sides of the pool and must announce when they step over a line.
Although they're seemingly trivial safety tips, the idea is that paying attention to surroundings can mean the difference between life and death in a combat situation.
The slightest mistake reinforces that detail by sending the students into a series of exercises, the least of which is the dreaded flutter kick. Students lie on their backs, legs extended and held 6 inches off the ground, with hands under the hips and lift alternate legs to about a 45 degree angle.
The grimaces confirm the level of pain. No matter how strenuous, to some students the physical exercises aren't as difficult as other aspects of the training.
"Keeping mentally focused and learning to work in unison is the hardest part," said 2nd Lt. Derek, an academy graduate and water polo champion the instructors call "Mr. Water Polo." "Because if you bring personal burdens to the pool it affects everyone.
To slow him down, the phase one lieutenant totes a large tree stump throughout the course. The ritual started more than eight months earlier at Keesler Air Force Base, Miss., when combat control proctors realized he wasn't being physically challenged.
"I don't know how they found out about the wood [here], but somehow here it is," Derek said.
Although the young officer wasn't thrilled to see the trusty stump waiting for him at Hurlburt, he quickly admits carrying the extra weight has built his endurance and increased his speed.
"Even those who are strong and can run well are tested in the water," said instructor Tech. Sgt. Calvin. "It's physically challenging even if they feel comfortable in the pool."
Master Sgt. Art, an instructor and 17-year combat control veteran, agreed and believes the water is an equalizer regardless of skill level.
"Getting acclimated to the water is key," Derek said. "But right from the get-go you're getting kicked, and you're forced to work as a team."
Article Courtesy of Airman Magazine
Grooming combat controllers extends beyond the waterlogged bodies at the pool. It's about taking a group of men and forming a disciplined team. Throughout their careers, with less than 500 officers and enlisted men assigned to the specialty, it's likely they'll work together at some point. So teamwork must be second nature.
"Buddy breathing" teaches team members to rely on each other in life-threatening situations.
Thrashing instructors simulate the hazards of combat by trying to disorient, distract and even wrangle masks or the snorkel from a "buddy" team. During the simulation, the students focus on sharing the breathing tube without losing composure or breaking the surface to take a breath.
There is a gradual progression in the physical training, but when it comes to the water, it's sink or swim. Although it looks severe, instructors don't expect students to do anything they haven't done themselves. The learning curve is steep, but instructors get in the water and demonstrate. By the time students finish, they will have completed a 3,000-meter or 60-lap fin swim in 75 minutes.
For the instructors, the reward comes when they see a group transition into a team.
"We all have the same goals, and that makes it easy to help each other," Derek said. "Everyone is intent on getting everyone through this course."
Another activity sends students sinking to the bottom of the pool, hands and feet tied together, performing somersaults in the water and retrieving a dive mask from the bottom of the aquatic abyss. The series of threatening exercises is called "drownproofing" and is designed to build confidence in the water.
But there's more to this phase than diving into the 12-foot pool. Trainees also learn about decompression, dive tables and physics.
"They're constantly under stress, and we see how well they perform," said Tech. Sgt. Greg, noncommissioned officer in charge of prescuba. "In the end, we have good results."
The number of Air Force honor graduates at the next step — Combat Diver Qualification Course in Key West, Fla. — has risen dramatically with airmen named eight of the last 14 honor grads. And in a joint school where the washout rate for airmen was once 10 percent, no one has failed since before 1996.
Greg recalled one airman, in the second class, had an especially difficult time and "washed back" but eventually went home as an honor graduate in his class of 60 at the Key West course.
"When you see a guy struggle through the program and later you see him proudly wearing a 'scuba bubble' on his chest, that's when being an instructor is most rewarding," he said.
Article Courtesy of Airman's Magazine
Better training
Even though Greg was upgraded in a relatively systematic way when he entered the career field, he knows this is a better alternative to on-the-job upgrade training. That's because when he started in 1994, he was one of eight students to graduate out of a class of 46 — just 17 percent. Which he said was impressive compared to classes of the same era where graduation levels fell to as low as 5 percent.
"The way we're training now, the guys have a better idea of what they're getting into than before," he said. "We've developed a smarter way to train with the same 'gut check.' "
For students like 25-year-old Staff Sgt. Don, that made all the difference. He's seen both training pipelines. When he joined the Air Force in 1995, he was focused on special operations. But the water was his enemy. He failed scuba school on a weight belt swim and was assigned as a crew missile maintainer.
"I liked being a maintainer, but I knew I wanted to be a special operator," Don said.
So he dedicated himself to another chance and started again in June 2001 with the two-week long orientation course at Lackland Air Force Base, Texas. For Don, although facing water confidence again was intimidating, the improved prescuba phase had him leaving the pool confident that whatever the tide brought on, he could handle it.
He attributes his success to the new program and appreciates the experience level of the cadre.
"Having these expert veterans here to teach us and share all this knowledge with us is awesome," he said.
After the water phase, the team is taught and tested on working together to get the job done in the small unit tactics phase.
Not only do they hone their basic skills, learned in the first six months, they get more in-depth equipment knowledge. They're also challenged with realistic situations like having to program a radio in the dark.
It's a "crawl, walk, run approach" to training. It starts with using blank ammunition. Students learn the ropes of operations along the way. At the end, once students have mastered weapons handling, there's an end-of-phase, live-fire realistic combat exercise. It's information they're sure to apply in the field.
Dropping in
Employment is phase three and teaches the primary ways special operations forces get to work. That includes parachuting — both static line and free fall, scuba diving, land navigation, vehicle and boat.
After they become static-line parachutists, sporting more than 100 pounds of gear on their backs when they hit the ground running, students jump into a more demanding and dangerous skill. The highlight of the phase for most students is military free-fall parachuting. At a four-week course taught at Fort Bragg, N.C., and Yuma Proving Ground, Ariz., students learn how to infiltrate and avoid detection.
The first week of training — called ground week — sends them to Fort Bragg where they become familiar with freefall stabilization in a wind tunnel.
They're also taught basic aircraft procedures and altitude physiology.
Then they head for Yuma's desert environmental test facility where they learn the intricacies of high-altitude, low-opening missions. "High altitude" refers to being up to 18,000 feet above the ground as they exit the aircraft. "Low-opening" means students freefall until they deploy their chutes at about 3,500 feet. During high-altitude, high-opening missions both exit and deployment altitudes are high, and a special parachute lets them maneuver more than 50 miles as they quietly float into an area.
It's an adrenaline-rich phase that reminds students of environments and challenges they may face at their units. Day or night, regardless of weather conditions, they practice and master using infiltration options while continuing to hone their air traffic control skills.
Article Courtesy of Airman's Magazine
Combat ready
By the time they graduate, each airman is issued between $12,000 and $15,000 in equipment that goes with them to their first assignment. They get boots, body armor, dive suits, extreme cold weather gear, helmets, load-bearing vests and protective equipment.
The training and equipment get put to the test during the last few months of training when the students use all of their newly-acquired skills in a major exercise.
"We've had them secure the NCO club during Sunday brunch," Calvin said. "And people didn't even know what was going on."
The premise of the program is "warriors training warriors." The instructors train with high expectations of the students. The idea is that some day these airmen will have to be there for their buddies, so it's essential that they know the ropes.
"I sweat with these guys; I bleed with these guys," Calvin said. "They're the ones willing to die for you. It builds a bond stronger than the one you had with your friends back home."
There's no easy way to prepare someone to fearlessly advance into harm's way. It takes a mindset most people can't fathom. But for those with the aptitude and attitude, advanced skills training equips tomorrow's combat controllers.
"The students we've graduated are at about the same level as I was my fourth or fifth year on the team," Greg said. "They're already ahead of some of the guys who've been on teams for more than two years."
Derek compares being a combat controller to a being a football player who practices for a championship game.
"After two years of being equipped with tools, we want to use them in the game," he said. "To be able to defend our country using our training would be unbelievable."
Article Courtesy of Airman's Magazine