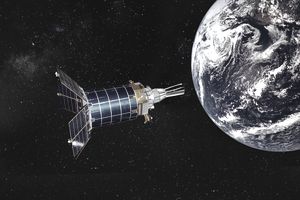 Specialty Summary:
Manages or performs duties in space operations; space surveillance, missile warning, satellite command and control (C2), or space launch activities. Related DoD Occupational Subgroup: 221.

Duties and Responsibilities:
Detects, identifies, and maintains surveillance on low orbiting and deep space satellite vehicles using active and passive space surveillance systems. Explores new space surveillance technologies, develops new space operational procedures, and employs new space surveillance sensors.
Detects and tracks sea-launched and intercontinental ballistic missiles using a variety of system peculiar sensors. Detects and tracks earth satellites. Forwards information to appropriate command and control agency.
Plans satellite contacts, resolves emergencies, and performs satellite commanding during launch, early orbit, daily operations, and end-of-life testing. Performs launch and on-orbit operations for military communications and Navstar Global Positioning System satellites. Provides on-orbit telemetry, tracking, and commanding for these and other satellite systems.
Provides space lift operations support to fulfill war fighting and national requirements. Assists in-flight hardware processing and satellite launch operations for DoD, NASA, and commercial users.

Specialty Qualifications:
Knowledge. Knowledge is mandatory of: Satellite C2, space warning and control systems, and space launch processes; orbital mechanics; data analysis procedures; sensor theory; data transmission theory; principles of satellite and ground systems; receiving, recording, and relaying operational data; and administrative practices.
Education. For entry into this specialty, completion of high school with courses in physics, geometry, trigonometry, algebra, or computer science is desirable.
Training. For award of the AFSC 1C631, completion of a basic space systems operator course is mandatory.
Experience.The following experience is mandatory for award of the AFSC indicated: (Note: See Explanation of Air Force Specialty Codes).
1C651. Qualification in and possession of AFSC 1C631. Also, experience in functions such as spacelift C2 systems, telemetry processing, ground systems configuration, mission planning, anomaly resolution, and launch operations.
1C671. Qualification in and possession of AFSC 1C651. Also, experience performing or supervising space systems operations functions and activities.
1C691. Qualification in and possession of AFSC 1C671. Also, experience managing space systems operations activities.
Other. The following are mandatory as indicated:
For entry, award, and retention of AFSCs 1C611/31/51/71, physical qualification for space operations duty according to AFI 48-123, Medical Examination and Standards.
For award and retention of AFSCs 1C631/51/71/91/00, eligibility for a Secret security clearance, accordance according to AFI 31-501, Personnel Security Program Management.
Strength Req: G
Physical Profile: XXX1XX
Citizenship: Yes
Required Appitude Score : E-58 (Changed to E-60, effective 1 Jul 04).
Technical Training:
Course #: V3AQR1C611 000
Length (Days): 24
Note: May also attend one or more of the following courses, depending upon duty assignment:
Course #: V3ABR1C631 005
Length (Days): 43
Course #: V3ABR1C631 006
Length (Days): 58
Course #: V3ABR1C631 012
Length (Days): 29
Course #: V3ABR1C631 013
Length (Days): 24
Course #: V3ABR1C631 014
Length (Days): 8
Course #: V3ABR1C631 015
Length (Days): 58
Course #: V3ABR1C631 017
Length (Days): 98
Course #: V3ABR1C631 030
Length (Days): 18
Course #: V3ABR1C631 038
Length (Days): 20
Course #: V3AQR1C611 040
Length (Days): 10
Course #: V3ABR1C631 043
Length (Days): 40
Course #: V3ABR1C631 050
Length (Days): 53
Course #: V3ABR1C631 051
Length (Days): 53
Course #: V3ABR1C631 009
Length (Days): 20
Course #: V3ABR1C631 010
Length (Days): 25
Course #: V3ABR1C631 011
Length (Days): 35
Possible Assignment Information