Air Force Tactical Air Control Party in Afghanistan
Operations In Afghanistan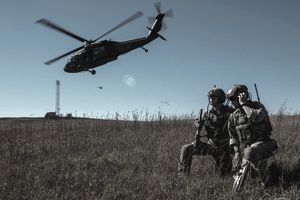 BAGRAM, Afghanistan, -- "The strong will stand, the weak will fall by the wayside." For Air Force Tactical Air Control Party (TACP) airmen, these words are more than just a motto; they also serve as a battle cry.
Wherever American military forces are found, TACP airmen are sure to be nearby. Nicknamed the "Air Force infantry" because they spend most of their career assigned to Army units, tactical controllers can most often be found embedded with special operations forces.
"Our primary role is to direct combat strike aircraft against enemy targets," said Staff Sgt. Alan Lesko, TACP noncommissioned officer in charge with the Army's 10th Mountain Division, supporting Operation Enduring Freedom in Afghanistan. "We also coordinate artillery fire with air strikes." To accomplish their mission, tactical controllers serve on the front line, often in advance of any other military units.
In Afghanistan, they control the battlefield by coordinating strikes of the A-10 Thunderbolt II aircraft. Whether involved in a low-intensity conflict or full-scale conventional warfare, TACP airmen guide the full fury of American military might.
Known by Army special operations soldiers as enlisted terminal attack controllers, TACP airmen provide close-air-support aircraft guidance control to increase the capability of ground combat forces. They also are experts in artillery and in naval combat and attack helicopter capabilities; they use all combat assets to rain destruction on the enemy.
"Some people think we are air traffic controllers, but that's inaccurate," said Airman 1st Class James Blair. "Our mission is terminal control. That means bombs on target, and a very bad day for the enemy." They do not control aircraft, they direct the bombs, artillery, and missiles on the enemy positions.
These airmen must be thoroughly proficient in ground combat techniques, and their training goes well beyond that of the Army infantry. Tactical control airmen serve as advisers to ground component commanders in planning and employing combat assets, and are the link between joint and combined forces.
In Afghanistan, TACP airmen coordinate ground and air assaults on terrorist positions, provide convoy security for coalition forces and even assist with presidential security for the fledgling Afghan government.
Regardless of the mission assigned, Lesko said, their primary responsibility is to "hunt bad guys."
"Our job here is to fight for freedom from terrorism, to fight against the enemies of Afghanistan, and to bring that fight to those who threaten peace," he added.
The fight for peace and freedom takes the tactical controllers into some of the roughest terrain and most inhospitable conditions in the world. Whether they are braving the freezing temperatures and thin air in the mountains of Afghanistan, or in the desolate, searing deserts of Iraq, wherever Special Forces are needed, TACP goes. Often they are the first in and last out.
TACP airmen can be recognized by their black berets. Although the burgundy berets of Air Force Pararescuemen and the crimson berets of Air Force Combat Controllers are easily recognized, the black beret is seldom seen worn by Air Force members.
In the field, tactical controllers wear a battle uniform that is unremarkable, without name or Air Force labels, rank insignia or unit markings. Instead, their uniforms are adorned with small patches that make them visible to American pilots using special night-vision equipment, and are clearly marked on the sleeves and boots with each airman's blood type.
Tactical controllers are Ranger and airborne qualified, and are proficient in static line and high-altitude, low-open parachute tactics, as well as in air assault and scuba operations.
Their training begins with basic radio maintenance and operation, then continues with land navigation and combat air support basics, followed by survival school, where they learn survival, escape, resistance and evasion tactics (SERE).
To become an Air Force TACP, you must first pass the Special Tactics Tactical Air Control Party Physical Fitness Test (ST TACP PFT) as governed by the Air Force Special Operations Command. From basic training until completion of TACP Special Tactics training takes about a year and if physically and tactically challenging.  The TACP PFT consists of Pullups, Pushups, SItups, 3 mile run, and a 12 mile ruck.