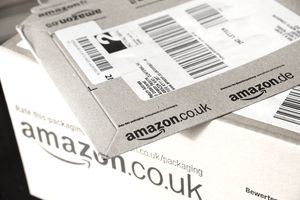 About Amazon
Based in Seattle, WA, this giant of the e-commerce business operates many sites in the United States, Canada, China, France, Germany, Italy, Japan, Spain and the United Kingdom, employing more than 30,000 people. However, its work-at-home operations, though they have expanded in recent years, are still relatively small and focused on customer service. Amazon's home-based workers are typically in seasonal holiday WAH jobs.
 (Also see Apple At-Home, which has a similar seasonal hiring program.)
Amazon Work-at-Home Virtual Call Center Agents
Amazon recruits virtual call center agents, call center managers and human resource professionals to work at home as well as a few tech jobs. Virtual call center agents, the largest segment of home-based workers, are employees (not independent contractors) and may work full or part-time for an hourly wage. ​
Also See: 5 Customer Service Jobs You Can Do From Home
Qualifications for Virtual Call Center Agents
All of these work-from-home call center jobs require residency in one of a specific list of states. Some may require on-site training at a specific location as well. See the list of states below.
Customer Service Representatives
Home call center agents for Amazon.com generally need at least one year of experience working in customer service, but more is preferred. Likewise, a high school diploma is required, but some college is preferred. Applicants need familiarity with online shopping and research, excellent computer skills and an understanding of Microsoft Office, email and chat technologies. Prior experience working independently in a virtual environment is preferred for all work-at-home positions. A high-speed Internet connection and a dedicated phone line are among the home office requirements. See more on typical home call center office requirements. Part-time employees (minimum of 20 hours/week) will need to be available up to 40 hours during November and December.
Call Center Managers
Call center management applicants should have a bachelor's degree (but MBA preferred) and at least two years of experience managing people as well as some project management experience. They will also need direct experience in customer service in a call center, retail or hospitality environment. The job requires 15% travel. Must live in Alaska, Arizona, Connecticut, Delaware, Florida, Georgia, Indiana, Kansas, Kentucky, Massachusetts, Montana, Nevada, New Hampshire, New Jersey, New York, North Carolina, North Dakota, Pennsylvania, Tennessee, Texas, Virginia, West Virginia, Wisconsin
Human Resources Professionals (Recruiters and HR Managers)
Depending on the job's level, HR positions could require anywhere from two to eight years of experience in HR. A bachelor's degree in human resources is required but a master's is preferred. Experience in web-based hiring and assessment is a must.
Pay and Hours
The hourly pay of a home-based customer service rep is about $10/hour with performance-based bonuses and incentives.  Hours may vary and both full- and part-time agents may be required to work shifts that include days, afternoons, evenings, weekends, and occasionally over time.
For the salaried positions, pay is based on experience.
Applying to Amazon
Amazon divides its job postings into its hourly, fulfillment jobs, which include its home-based CSAs, and its other salaried jobs, which includes the customer service manager and HR jobs.
To find work at home positions, sort positions to virtual locations in the Amazon jobs website. Click "Apply for this Job" at the bottom of the job posting and create a "career profile."
Call center applicants need to successfully complete a pre-employment assessment and criminal background check and be able to participate in on-site paid training.
In the fall, Amazon recruits more heavily for customer service jobs, which are usually temporary.
Amazon and Mechanical Turk
Additionally, Amazon owns Mechanical Turk, a service that allows people to earn money from home doing small virtual jobs. However, Mechanical Turk is not covered in this profile. For more companies like Mechanical Turk, see this list of micro jobs.