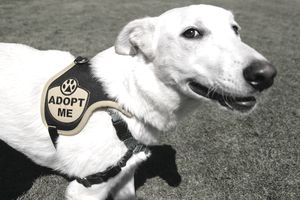 There are many career paths available for those concerned with animal rescue and animal welfare. Here are a few of the most popular options:
Animal Welfare Veterinarian
Animal welfare veterinarians are board certified specialists who have advanced training in animal welfare and ethics. Animal welfare has only been a specialty in the United States since 2012, with the first diplomates recognized as charter members in 2012 and the first certification exam administered in 2013.
The average salary for veterinarians is approximately $80,000 per year, though board certified specialists can earn well over $115,000 per year due to their advanced training and professional qualifications.
Animal Shelter Manager
Animal shelter managers oversee the animals, staff, and maintenance at the facility that they supervise.  Shelter managers seek funding, develop procedures, interact with the public, and represent the shelter at community events. Shelters tend to prefer managers with a degree in business administration or an animal related field. Compensation for animal shelter manager positions tends to range from $40,000 to $55,000 per year.
Pet Adoption Counselor
Pet adoption counselors screen adoption applicants, process applications, and supervise interactions between pets and the public. While a college degree is not required to secure a position in this field, most pet adoption counselors have extensive experience working with companion animal species.
 Salary for pet adoption counselors averages from about $20,000 to $30,000 per year.
Humane Educator
Humane educators provide information about animal welfare and behavior. Educators present a variety of educational programs to school groups, businesses, and other area organizations. They may also be involved with educating pet adopters about how to care for their new animals.
Humane educators usually have a degree in education or a related field, though this is not always required. Certification programs are also available through the Humane Society of the United States. Salary for humane educators generally ranges from $25,000 to $35,000 per year.
Animal Control Officer
Animal control officers capture stray animals, investigate cases of animal mistreatment, enforce licensing regulations, and provide care to animals in their custody. This position allows for a high level of direct contact with animals, so it is critical that officers take all proper safety precautions to minimize the chance of injury. A degree in an animal related field or criminology is preferred for officers, though a high school diploma or GED may be sufficient. There are several certification program options. A strong knowledge of animal behavior and first aid is critical for those seeking a position in this field. Salary for animal control officers averages about $32,000 per year, though upper level investigators and managers can earn more than $50,000 per year.
Wildlife Rehabilitator
Wildlife rehabilitators provide care to injured native wildlife with the long range goal of returning rehabilitated animals to the wild if at all possible.
Rehabilitators must be licensed to work in their home state and obtain all necessary permits required by law. Professional certification is also available.  Salary for wildlife rehabilitators tends to range from $25,000 to $35,000.
Animal Lawyer
Animal lawyers may be involved with a variety of cases that may involve defining legal protections for animals and their welfare. Lawyers must complete graduate training to earn their Juris Doctor degree, plus they must successfully pass the bar exam to become licensed to practice in their home state. The median annual wage for lawyers is $112,760 according to the Bureau of Labor Statistics.
Final Word
Individuals who are interested in pursuing animal rescue and welfare career paths may benefit from volunteer work with shelters, humane societies, wildlife rehabilitation programs, breed rescues, and other similar organizations.
Completion of formal internships may also be of particular value, especially wildlife rehabilitation and animal behavior internship program options.