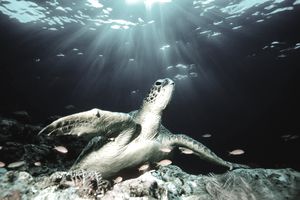 Aquatic veterinarians are practitioners that specialize in the health management of marine animals.
Duties
Aquatic veterinarians are licensed animal health professionals that are qualified to diagnose and treat a wide variety of marine species which can include fish, marine mammals, sea turtles, and other wildlife.
The typical routine for an aquatic vet can vary depending on the specific type of patients they are responsible for treating.
General duties include conducting basic exams and evaluations, giving routine vaccinations, taking samples of blood or other bodily fluids, recommending and distributing prescription medications, observing and evaluating behavior, suturing wounds, performing surgical procedures when necessary, conducting follow-up exams after treatment, taking x-rays or sonograms, and supervising ​veterinary technicians or other support staff.
It is common for aquatic veterinarians to work a five to six day week with additional "on call" hours being a possibility depending on the specific nature of their practice. Work may involve working with animals in large tanks which may be outdoors, exposing the vet to varying temperatures and weather conditions. Many aquatic vets have scuba certification and strong swimming skills that allow them to observe and assist animals in their habitats. They may also work with animals in shallow treatment pools and tanks with the assistance of trainers, keepers, or other personnel.
Career Options
Aquatic vets may work in private practice, but they most frequently work for aquaculture facilities, aquariums, zoos, museums, and marine parks. They may also choose to operate a mixed practice which includes providing care for other exotic or wildlife species.
Vets may also find employment as pharmaceutical sales representatives, college professors or educators, military personnel, researchers, or government inspectors.
Education and Training
All aquatic veterinarians must successfully graduate with a Doctor of Veterinary Medicine (DVM) degree from an accredited program, which is the achieved after a rigorous course of study involving both small and large animal species. Some schools, such as the University of Florida, offer an aquatic animal health track as a part of their DVM program. There are currently 30 accredited colleges of veterinary medicine in the United States that offer a DVM degree.
After completing their studies, veterinarians must pass the North American Veterinary Licensing Exam (NAVLE) to become licensed to practice veterinary medicine. Approximately 2,500 graduates pass this exam and enter the field of veterinary medicine each year. At the end of 2012, in the most recent AVMA employment survey available, there were 97,111 veterinarians practicing in the United States.
Vets can also pursue board certification, which involves several additional years of practical training and testing under the supervision of top professionals in a specialty field. After completing the requisite experience, the candidate must pass a comprehensive examination to achieve diplomate status in the specialty field.
A zoological medicine specialty is currently recognized, which includes an aquatic certificate option. A fish pathology certification program is also available through the American Fisheries Association.
Professional Associations
The World Aquatic Veterinary Medicine Association (WAVMA) is a professional membership group that was founded in 2006 as a resource for aquatic veterinarians, technicians, students, and others with an interest in aquatic veterinary medicine. The WAVMA puts on an aquaculture biosecurity conference and provides a variety of opportunities for continuing education to its members.
Salary
While the Bureau of Labor Statistics (BLS) does not separate out salary information for individual veterinary specialties, the salary survey did find that the median wage for all veterinarians was $82,040 in May of 2010.
Earnings varied from less than $49,910 for the lowest ten percent of all veterinary practitioners to more than $145,230 for the top ten percent of all veterinary practitioners.
Veterinarians who are board certified by the AVMA in a particular specialty area (such as zoological medicine, ophthalmology, oncology, surgery) generally earn significantly higher salaries as a result of their advanced education and experience.
Job Outlook
According to data collected by the Bureau of Labor Statistics, the veterinary profession is projected to grow at a much more rapid rate than the average for all professions—at a rate of nearly 33% from 2008 to 2018. The limited number of graduates from vet programs will ensure excellent job prospects in the field of veterinary medicine. Since most new graduates enter small animal or large animal practice, the job prospects for aquatic and wildlife veterinarians should be quite good.
As a result of the rapidly expanding aquaculture industry and strong popular interest in marine parks and aquariums, the demand for aquatic veterinary services should continue to increase at a healthy rate for the foreseeable future.