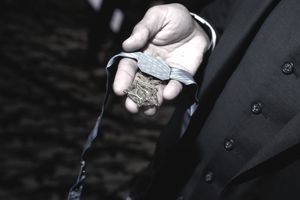 Napoleon once said, "A soldier will fight long and hard for a bit of colored ribbon." Ask soldiers why they fight, and they will say they fight for the people to the left and right of them.
The United States Army uses military awards and decorations (medals and ribbons) to foster mission accomplishment by recognizing excellence of military members of the force and motivating them to high levels of performance and service.
Displayed proudly on a soldier's chest, the awards, ribbons, medals, and badges all symbolize a potentially long list of accomplishments both for non-combat related duty as well as heroism in combat.
The first medals and ribbons were issued to Army soldiers during the Civil War. These were unofficial awards given by individual commanders. The first official award established in the Army was the Congressional Medal of Honor. The highest medal of distinction is the Congressional Medal of Honor.
A medal will not be awarded or presented to any individual whose entire service after the time of the distinguished act, achievement, or service has not been honorable. The determination of "honorable" will be based on such honest and faithful service according to the standards of conduct, courage, and duty required by law and customs of the service of a member of the grade to whom the standard is applied.
Unit and Individual Awards
An interesting tradition that only the Army does of all the services is separate the unit citations and awards from individual awards. When facing a soldier, the individual awards, medal, and badges that person earned will appear on your right (his/her left) side of the chest.
The unit awards and citations will be on your left (his/her right) side of the chest, above the name tag. The unit awards are encased in a gold frame that wraps around the ribbon. 
Common Errors Describing Medal Recipients
It is often stated haphazardly, or unknowingly, by civilians usually that someone who serves "won a medal of honor," or was a "medal of honor winner." It should be noted that no one "wins" a medal, servicemen and women earn a certain medal and are also forever labeled as a recipient of that medal. For instance, one does not "win the Silver Star," one is a "Silver Star recipient" or has "earned" a Silver Star.
The below decorations are shown in order of precedence.
Click on the below decorations for a detailed picture, description, and basic award criteria:

Army awards and decorations are approved according to the guidance contained in Army Regulation 600-8-22, The Military Awards.
Rules for the proper wear of Army awards and decorations can be found in Army Regulation 670-1, Wear and Appearance of Army Uniforms.