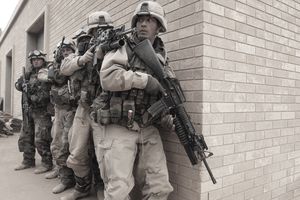 Initial Training Overview:
Initial Training in this MOS is primarily conducted through One Station Unit Training (OSUT), which combines basic training and job training into one single course of instruction. OSUT for 11B, Infantryman is 13 weeks, 3 days at Fort Benning, Georgia. Advanced Individual Training (AIT) is continued through the 11C course, 8 weeks, 1 day, also at Fort Benning.
Additional Training Information:
Specific formal training opportunities for this MOS, including advanced training courses available at specific points of the soldier's career, can be found on the Army Training Requirements and Resources System (ATRRS) Web Site.
Restrictions:
During Basic Training and Advanced Individual Training (AIT), the Army limits a soldier's personal freedom, using a "Phase System," which grants increased freedom, based upon phase of training. For details, see Army Training Phase Restrictions.
Training Details:
Job training for Indirect Fire Infantryman first requires 13 weeks, three days of One Station Unit Training (OSUT) for Infantry, which includes Basic Training and Advanced Individual Training (AIT) for infantry. Training is then followed by AIT for Indirect Fire subjects (8 weeks, 1 day at Fort Benning). The training will take place primarily in the field, with some classroom training. OSUT subjects include Landmine warfare, antiarmor techniques, M203 grenade launcher, machine guns, military operations on urban terrain and squad tactical training. 11C specific training course provides a logical progression of individual skills and tasks, selected to develop a disciplined, motivated soldier proficient in common entry-level infantry tasks.
Course develops self-discipline, motivation, physical readiness, and proficiency in combat survivability and gunnery techniques with infantry mortar systems that will enable the soldier to become a productive member of a unit.