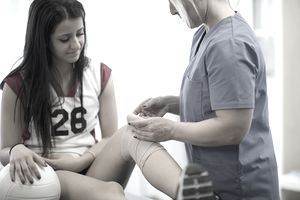 An athletic trainer is a health care worker who diagnoses and treats people who have sustained injuries to their muscles and bones. He or she also teaches them how to prevent injuries. His or her patients are usually athletes, but others may seek treatment as well. An athletic trainer works under the direction of a physician.
Quick Facts
25,000 people worked in this occupation in 2014.
Most athletic trainers work in colleges; elementary, middle and high schools; hospitals; and fitness centers. Professional sports teams employ some.
The U.S. Bureau of Labor Statistics classifies this as a "bright outlook" occupation because the agency predicts employment of athletic trainers will grow much faster than the average for all occupations through 2024.
Roles and Responsibilities
These are some typical job duties taken from online ads for athletic trainer positions found on Indeed.com:
"Deliver athlete medical care in a positive, caring, and empathetic manner while working to assure all patient questions are answered in a helpful manner"
"Provide first aid techniques and triage as necessary"
"Monitor athletic events and team practices"
"Perform initial athletic training evaluations"
"Provide care to a patient population ranging from adolescents to geriatric"
"Act as liaison between the patient and physicians and/or their support staff and medical assistant"
"Prevent athletic injuries"
"Assist with maintaining all medical records"
How to Become an Athletic Trainer
To work as an athletic trainer, you will need to earn at least a bachelor's degree from a program that has been accredited by the Commission on Accreditation of Athletic Training Education (CAATE).
The majority of athletic trainers, however, have a master's degree.
The majority of states in the United States require athletic trainers to be licensed or registered. To find out what the licensing requirements are in the state in which you want to work, use the Licensed Occupations Tool on CareerOneStop. The Board of Certification, Inc. (BOC) administers an exam and certifies athletic trainer. Many states require this for licensure.
Some employers require their athletic trainers to have concussion management training and certification. The U.S. Centers for Disease Control (CDC) offers online training and certification, and several private organizations do as well. Many employers also require CPR, AED, and first aid certification.
What Soft Skills Will Help You Succeed in This Career?
In addition to your education, training, and license, you will also need personal qualities, known as soft skills, to succeed in this field. Here are some of them:
Listening and Verbal Communication Skills: You must be able to understand information that patients and coworkers tell you and you must be able to clearly convey information to them.
Interpersonal Skills: You need to "read" patients' non-verbal cues.
Compassion: When dealing with patients who are in pain, you must show sympathy.
Decision Making: You must be able to make potentially life-altering decisions on the spot.
Critical Thinking: Sound decision making and problem solving require the ability to weigh the value of possible solutions before choosing the best one.
Attention to Detail: The ability to record information accurately is essential.
The Truth About Being an Athletic Trainer
This is a health career that requires, at least, a bachelor's degree and usually a master's degree. It is not to be confused with ​a ​fitness trainer.
Expect to travel frequently if you work for a sports team. When the team goes on the road, so will you.
Because athletic events often take place on evenings and weekends, you will have to work during those hours if you work for a school or professional team.
This is a physically demanding job. You will spend a large portion of your shift standing and you will have to lift patients.
What Will Employers Expect From You?
Here are some requirements from actual job announcements found on Indeed.com:
"Compliance and understanding of Big Ten Conference and NCAA rules"
"Experience working independently in an unsupervised environment"
"Ability to work effectively with a wide range of constituencies in a diverse community"
"Ability to effectively manage emergency situations relevant to the position"
"Maintain emotional control under stress"
"Concussion Management Certification preferred"
Is This Occupation a Good Fit for You?
Holland Code: SRI (Social, Realistic, Investigative)
MBTI Personality Types: ESTJ, ISFJ (Tieger, Paul D., Barron, Barbara, and Tieger, Kelly. (2014) Do What You Are. NY: Hatchette Book Group.)
Occupations With Related Tasks and Activities
 
Description

Median Annual Wage

(2014)

Minimum Required Education/Training
Restores mobility, relieves pain and improves function in patients who were injured
$82,390
Doctor of Physical Therapy Degree
Cardiovascular Technologist
Uses non-invasive procedures to help doctors diagnose and treat cardiac and vascular problems
$54,330
Associate Degree
Exercise Physiologist
Helps patients recover from chronic diseases through exercise
$46,270
Bachelor's Degree
Sources:
Bureau of Labor Statistics, U.S. Department of Labor, Occupational Outlook Handbook, 2016-17 
Employment and Training Administration, U.S. Department of Labor, O*NET Online