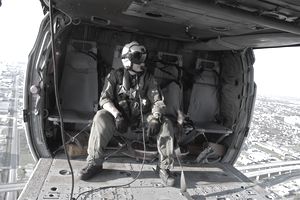 Aviation Electrician's Mates (AE) are aircraft electricians. They maintain a wide range of electrical and navigational equipment in aircraft including power generators, power distribution systems, lighting systems, flight instrument and fuel systems, temperature and pressure indicating systems. AEs are also trained in computers to support this state-of-the-art equipment. These technicians may also volunteer to fly as Naval aircrew.
Aircrew perform numerous in-flight duties and operate radar and weapon systems in turbojet, helicopter, or propeller aircraft.
Duties performed by AEs include:
testing, installing and maintaining a wide range of aircraft instruments and electrical equipment including generators, motors, and lighting systems;
reading electrical system diagrams;
maintaining aircraft compass systems;
performing electrical troubleshooting operations;
using a variety of electrical measuring equipment;
performing micro-mini module repair; maintaining automatic flight control systems;​
maintaining inertial navigation systems;​​
performing as aircrew on various aircraft.
You cannot get the AE rating as a "guaranteed job" in your enlistment contract. Volunteers for this rating enlist in the Navy as an Aviation Sailor (AV), and are selected for either this rating, or the Aviation Electronics Technician (AT) rating upon graduation from the Common Basics Electronics Course at A-School (job school).
Working Environment
Sailors in this career field will perform duties at sea and ashore around the world. At various times they could be working at a land-based aircraft squadron or onboard an aircraft carrier, either indoors or outdoors, in a shop environment or in office surroundings, and at a clean lab bench or in a garage-type situation.
They work closely with others, require little supervision, and do mental and physical work of a technical nature.
A-School (Job School) Information
Common Basics Electronics Course, Pensacola -51 calendar days
AE A-School, Pensacola - 79 calendar days
ASVAB Score Requirement: AR+MK+EI+GS = 222 OR VE+AR+MK+MC=222
Security Clearance Requirement: Secret
Other Requirements
Vision must be correctable to 20/20
Must have normal color perception
Must be a U.S. Citizen
No history of drug abuse
Sub-Specialties Available for This Rating: Navy Enlisted Classification Codes for AE
Current Manning Levels for This Rating: CREO Listing
Note: Advancement ( promotion ) opportunity and career progression are directly linked to a rating's manning level (i.e., personnel in undermanned ratings have greater promotion opportunity than those in overmanned ratings).
Sea/Shore Rotation for This Rating
First Sea Tour: 48 months
First Shore Tour: 36 months
Second Sea Tour: 36 months
Second Shore Tour: 36 months
Third Sea Tour: 36 months
Third Shore Tour: 36 months
Fourth Sea Tour: 36 months
Forth Shore Tour: 36 months
Note: Sea tours and shore tours for sailors that have completed four sea tours will be 36 months at sea followed by 36 months ashore until retirement.
Much of the above information courtesy of the Navy Personnel Command