Best Buy Career and Employment Information
Best Buy is one of the nation's leading electronics retailers.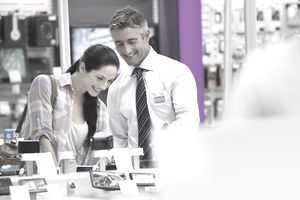 If you are considering applying for a job at Best Buy, below is some career and employment information.
What is Best Buy?
Best Buy is one of the nation's leading electronics retailers. Best Buy has more than 1,400 stores and locations, including large-format and Best Buy Mobile stores and employs more than 125,000 people. Best Buy is headquartered in Richfield, Minnesota, a Minneapolis suburb. It operates in the United States, Mexico, and Canada.
 The company was founded by Richard Schulze and Gary Smoliak in 1966 as an audio specialty store. In 1983, it was renamed and rebranded with more emphasis placed on consumer electronics.
Best Buy's subsidiaries include Geek Squad, Magnolia Audio Video, Pacific Sales, and Cowboom. Best Buy operates under the Best Buy, Best Buy Mobile, Geek Squad, Magnolia Audio Video, Insignia and Pacific Sales brands in the United States; the Best Buy, Geek Squad and Best Buy Mobile brands in Canada; Best Buy Mobile and Five Star in China; and Best Buy, Best Buy Express, and Geek Squad in Mexico.
Best Buy describes its employees as "friendly, enthusiastic and willing to help you succeed. Sure, we're a big company — the world's largest consumer electronics retailer — but that doesn't stop us from having fun while doing what we love: bringing technology into people's lives in meaningful ways."
What Best Buy Sells
Best Buy sells cellular phones with phones from Verizon Wireless, AT&T Mobility, Sprint Corporation, Boost Mobile and T-Mobile US, in regular stores and standalone Best Buy Mobile stores in shopping malls.
Best Buy was named "Company of the Year" by Forbes magazine in 2004, "Specialty Retailer of the Decade" by Discount Store News in 2001, ranked in the Top 10 of "America's Most Generous Corporations" by Forbes in 2005 (based on 2004 giving), and made Fortune magazine's List of Most Admired Companies in 2006.
Best Buy Employment Information
Best Buy employment information including job openings, company culture, the employment application, company locations, benefits, and how to apply online is available at BestBuy.com.
Best Buy Job Listings
You can learn about opportunities for hourly store and retail management positions as well as logistics and corporate jobs. You can also submit your application to local stores online.
Job seekers can search for openings by Best Buy brand, job function, job level, individual store and within a geographic location.
Best Buy Employee Benefits
Best Buy benefits coverage is available to employees, spouses, domestic partners, and dependents. The full-time benefits offered are grouped together into three areas: Health and Wealth programs and Other Rewards. The Health benefits include medical, dental, vision, life insurance, disability and health and dependent care spending account programs. The Wealth benefits include 401(k) and the Employee Stock Purchase Plan.
Best Buy also offers an array of other benefits including time-off programs, employee discount, tuition assistance, vendor accommodation programs and more.
Suggested Reading: How Much Does a Retail Salesperson Earn | What to Wear to a Retail Job Interview