Best Job Search Sites for Entry Level Positions
Use These Site to Find Your First Job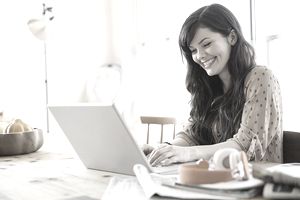 Have you just graduated from college or are you a recent alumnus with a few years of experience under your belt? If so, there are a variety of job sites that focus on entry-level job openings for college students and graduates.
Make sure that you tap the resources of the Career Services office at your college if you are attending college or have graduated.  College career offices have their own systems for posting jobs targeted towards their own students and alumni.
 These listings include opportunities from alumni, parents, and recruiters with a special interest in hiring graduates from your school.  Contact the Career office to obtain any passwords that you might need and to learn about other resources that can help you with your job search.  
Top Entry Level Job Sites
AfterCollege.com
AfterCollege.com features a wealth of information about companies seeking recent college graduates, as well as internship listings that may appeal to recent graduates who haven't yet decided on a permanent career route. This site also has registration for both employers and schools, meaning that you can register as a school-affiliated user and build a profile that gives employers more information about you that what's typically contained in your resume.
Users can search for jobs or internships by keyword, job category like accounting or consulting, and location.  Job seekers can also generate lists of jobs based on their college major and expand their awareness of positions that might be related by using the "Explore" function.
CollegeGrad.com
CollegeGrad.com is an excellent site for students or who aren't certain about their career focus.  The site features helpful browsing functions for users by experience level, job title, location, industry, and employer.  Information about common career fields for college graduates is furnished to help users assess options.
Useful articles and tips about interviewing, job search, and resume development are provided along with a salary calculator for entry-level jobs in various locations.
CollegeRecruiter.com
CollegeRecruiter.com links college students/graduates with employers looking to hire for entry-level jobs. Users can search for top/popular jobs by location, major and growing industries. The site features a free professional resume critique for registered users.
CoolWorks.com
Cool Works is an ideal job board for students/graduates looking for short-term/seasonal opportunities with a primary focus on outdoor and hospitality/tourism settings. Users can search categories of jobs/internships like conservation, environment, education, administrative, farm, fish, horses, outdoor adventures, retail, water/beaches, and more. The search by season is a popular way to filter opportunities by the time of year job seekers are available.
Experience.com
Experience offers articles and advice about resume, interviewing, job search and networking that is geared towards college students. The site enables users to identify the articles that are most popular with other job seekers using the site.
Idealist.Org
Idealist is the site for you if you are looking for opportunities in the public interest or not for profit sectors.
  You can research organizations by their focus on issues like education, housing, the environment, arts and much more. Users can identify entry-level opportunities by using the "professional level" filter for entry-level positions.
LinkedIn
Arguably the most powerful job search tool on the net because of its usefulness as a networking resource, LinkedIn has also become one of the leading sources for job listings. Students and graduates can tap the system to find entry-level jobs by entering a job title or career field like accounting into the main search windows for jobs. Then click on the entry-level jobs filter under the "Experience Level" tab from the results page. Make sure you check to see if you have any contacts on LinkedIn who might call attention to your application before applying.
USA Jobs
USA Jobs is the best site for finding opportunities with the federal government.  The federal government has instituted the Pathways Program to help college students and graduates to access entry-level jobs and internships with the government.
Use Job Search Engines and Mega Job Sites
Job search engine and mega sites, including Indeed.com and CareerBuilder.com, post jobs directly from employers and/or scan the internet and other job sites to aggregate listings. By using the keywords entry level (or entry-level), users can generate lists of opportunities suitable for students or graduates. These sites also provide articles with helpful information on job search, resume development and effective interviewing.
Read More: Tips for Finding an Entry Level Job, Best Entry Level IT Jobs