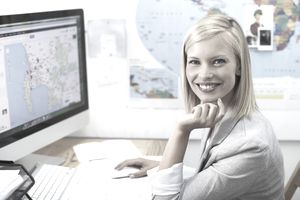 When you're looking for jobs abroad, one of the best ways to find them is to use a job site that focuses on international listings. You will be able to find job postings for the country where you want to work. You may be able to view jobs in a choice of languages, and you'll be able to apply online directly to companies and for positions of interest.
The international job search engine sites allow users to search the major job sites, company sites, associations, and other online job sites by keyword for a variety of countries.
Using these sites is a way to expedite your search because you'll find jobs from a variety of sources on one website, with a few clicks of your mouse or on your tablet or phone. Review this information on some of the best job search engines for finding overseas jobs, and for tips and advice for finding a job abroad.
International Job Search Engine Sites
Indeed.com International Jobs
Use Indeed.com's international job search engine sites to search job listings in Canada, France, Germany, India, Spain, the United Kingdom, and many other countries around the world. Their listings are from thousands of websites, job boards, newspapers, blogs, company career pages, and associations.
Monster International Jobs
Monster's job search engines enable users to access opportunities in Europe, Canada, the Middle East, and Asia.
HRDC Job Bank 
This site, also known as Job Bank or HRDC, connects job seekers to Canadian job openings.
In addition, users can upload and manage their resume, create email job alerts and match their profile to employer job postings. You can also get information on job market trends around the country and across industry sectors.
LinkUp Canada
LinkUp Canada includes job listings throughout Canada that are only found on company and employer websites.
LinkUp UK
LinkUp UK includes job listings throughout the United Kingdom that are posted on company websites.
CareerJet
Careerjet's job search engine network provides job listings from 50 countries, featuring separate interfaces that are translated into 20 languages.
Joblift
Joblift works with partner job boards in the United Kingdom. It uses extensive filters and an intelligent search algorithm to deliver the best job search results from multiple job sites. 
Jooble.org
Jooble is a job search engine that searches jobs in 44+ countries.
Recruit.net
Recruit.net is an international, multilingual job search engine covering China, Japan, India, Australia, Singapore, Malaysia, New Zealand and Hong Kong. There are also some listings from other countries.
Seek.com
Seek.com includes job listings in Australia, New Zealand, the UK, Asian executive jobs, job search and career tools, and volunteer opportunities..
iHipo.com
You can use iHipo.com to search international jobs and internships for students and young professionals by country or region.
CareerBuilder International
CareerBuilder has built a database of international opportunities worldwide most useful for English speaking countries like the UK, Canada, India, Australia and New Zealand.
Listings for other countries are in the native language spoken there.
International Jobs
Search for opportunities in the UK, Australia, and Canada. The site also includes a country by country guide to work permits.
Sites for Americans without a Work Permit
Some governments or agencies have mechanisms for job seekers to secure short-term work authorization. Here are a few:
North American Teaching and Cultural Assistants in Spain
This site connects users to eight-month long paid positions through the Spanish government assisting teachers within Spanish schools running from October through May.
Bunac
Bunac helps college students and recent graduates secure short-term work permits for countries in Europe, Asia, South Africa, Asia, Australia, Mexico and Canada. Some fees apply.
American Trainees in France
The French-American Chamber of Commerce brings together young (ages eighteen to thirty-five) Americans and French employers for paid work experiences lasting up to eighteen months and helps them secure trainee visas.
Peace Corps
Through this program, the U.S. government places thousands of Americans in projects related to agriculture, education, public health, environment, education, and youth in over sixty countries worldwide.
ProFellow
This site lists eighteen leading fellowships for mostly paid teaching positions for Americans abroad, including the Jet program for Japan and the Fulbright English Teaching Assistant program.
Tips for Finding International Jobs
Here's information on finding employment abroad including information on permanent and summer jobs, visa requirements, tips on working and volunteering overseas, and more job listings.