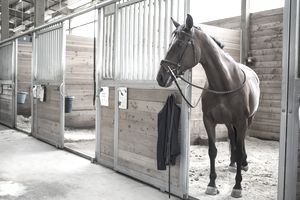 The equine industry has continued to grow quickly in recent years, with horse owners showing a growing willingness to spend money on care, products, and services for their animals.  This has, in turn, spurred growth for equine career paths at an accelerated rate.  Here is a rundown of our 25 favorite careers with horses (in alphabetical order):
Barn Manager: Barn managers supervise all aspects of horse care and manage the staff at equine facilities.
Equine Massage Therapist: Equine massage therapists use their techniques to boost circulation, relax muscles, relieve pain, and enhance the range of motion in their equine patients.
Equine Photographer: Equine photographers use their artistic and technical skills to capture quality photographic images of horses at rest or in competition.  The photos may be used to create art, or they may be used for commercial (advertising) purposes.
Yearling Manager: A yearling manager is tasked with the comprehensive management and care of young, rapidly growing horses.