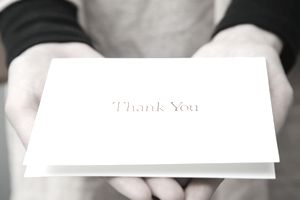 Although they may seem an old-fashioned means of communication to some in our modern age of texting and instant messaging, business thank you letters still serve very valuable purposes within the professional world. A dignified thank you note, whether sent as an email or a formal "snail mail" letter, is the proper, courteous type of communication to send to professional associates.
There are many contexts in which a business thank you letter should be written.
Perhaps you wish to show your appreciation for a job well done by a service provider, a colleague, or a subordinate. Maybe you need to follow up on a job interview. Possibly a supervisor has taken extra time to mentor you or a LinkedIn contact has provided you with a job referral to your dream employer. 
Sending thank-you letters in these instances can generate a positive "ripple effect." For example, a thank-you letter sent to a service provider can have a profound impact on the quality of the future service that provider renders. A formal thank you letter to a service provider also helps their business since it can be used as a testimonial on their professional website or in their marketing materials.
On the other hand, a letter written to say "thank you" to an interviewer for a job you want has the potential to translate into a job offer. Employers say they appreciate the time that candidates spend capturing important aspects of the interview in a thank you note and expressing a connection between their qualifications and what they learned about the employer's needs during their meeting.
This is the most essential part of a post-interview thank you letter. By writing and sending this letter immediately after your interview, you are not only saying "thank you," but you are also reminding the hiring committee of your skills, responding to any issues you felt were not fully addressed in the interview, and keeping your name "top of mind" as they make their hiring decision.
The business thank you letter example below is formatted as a traditional letter, to be sent via snail mail.
Business Thank You Letter Example
Kathy Green
Revelation Interiors, Store Manager
641 Maple Street
Anytown, USA 99999
January 29, 20XX
Jessica Mountain
Interiors by Jess, Owner
3672 Main Street
Anytown, USA 99999
Dear Jessica,
Thank you very much for your marvelous help during our recent store renovation. Your design experience and organizational skills really made a difference in how quickly we were able to re-open, and the new layout you designed already seems to be increasing sales of some items!
We are planning a similar renovation of our satellite store on the West Side within the next year, and I would like to contact you for your expertise on that project as well when the time draws closer.
I have given your name to several executives and clients who inquired about our exciting new look. I hope that this will help you to grow your business as well. Please feel free to contact me should you ever need a professional testimonial – I can promise to write a glowing one for you.
Thank you again for your flawless service, and I look forward to working with you in the future.
Regards,
Kathy
Sending an Email Thank You Message
If you email a thank-you letter to a business associate or service provider, your subject line can simply say: "Thank You – [Your Name]." For an email post-interview thank-you letter, you should include the job title in the subject line: "Re: [Position Title] Interview.
"Thank You – [Your Name]."
More Examples
Business Thank You Letter Examples
Business thank-you letters samples for a variety of business and employment-related scenarios, including thank-you letters for employees, employers, colleagues, clients, and networking contacts.
Writing Effective Thank You Letters
Writing Thank You Letters
How to write a thank-you letter, including who to thank, what to write, and when to write an employment-related thank you letter.
Letter Examples
These letter samples, including cover letters, interview thank-you letters, follow-up letters, job acceptance and rejection letters, resignation letters, appreciation letters, business letters, and more great employment letter samples, will help you to get an interview, follow up, and handle all the employment-related correspondence you need to write.