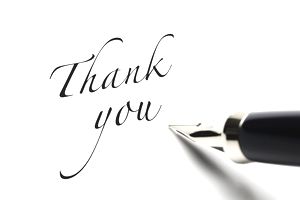 Are you wondering how to structure a gracious and winning thank-you note to send to a business associate or colleague? Here you will find several business thank-you letter examples, including thank-you letters for employees, managers, colleagues, clients, vendors, networking contacts, and other business professionals.
Use these examples as a starting point for your own correspondence, being sure to edit them to fit your own professional and personal circumstances.
A business thank-you letter can be sent as a written letter, a thank-you note, or via email.
If you send an email message, the Subject Line should say "Thank You – Your Name" or "Thank You for Your Assistance – Your Name" so that the recipient knows why you are writing, at a glance.
Business Thank You Letter Examples
These examples are customized for different relationships in your business life.
Appreciation Letter Sample: A letter of appreciation can be sent to someone who gives you a business contact or helps with your job search – it's a great way of strengthening and maintaining your personal and professional relationship. Here's how to compose an appreciation letter for email or to print and send through snail mail.
Sample Thank You Letter for a Colleague: If you want to thank a colleague for his or her help on a project or for support extended to you, use this example.
Employee Thank You Letter Examples: Sending employees thank-you notes for work well done is both an effective and inexpensive way to boost workplace moral. Employees who are formally praised and thanked on a regular basis tend to take more ownership of their performance and display strong allegiance to their company. Show your employees appreciation for their service by writing a personalized letter or email, using these examples as your models.
General Thank You Letter: A simple format for a thank you letter or email. You should modify this template to fit the situation and the recipient.
Career Related Thank You Letters
If you are looking for a job, be sure to always thank those who have provided contacts and assistance. Not only is this an instance to show good manners – it's also a politic way of laying a solid groundwork for a continuing, mutually beneficial networking resource.
Read More: Professional Letter and Email Writing Guidelines