Call Center Job Description: Agent Requirements
What It Takes to Become a Virtual or In-Office Call Center Agent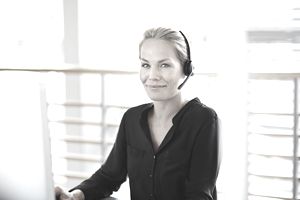 While there is no single virtual call center job description because every company has different requirements for its agents  and for each position type, there are certain assets that a call center applicant can bring to the job. And, there are a few very basic qualifications that most every call center company would require. Home call centers often have stricter requirements than office-based ones.
Learn if you have what it takes and understand what you want to emphasize in your online application, 
Basic Call Center Job Requirements
Must be 18 years old. Home call center companies will not hire minors, for the most part, though a few office-based ones will.
Must have a high school diploma. A GED is usually acceptable. Some companies may prefer a college degree or at least some college education.
Customer service experience. Virtual call centers usually want some experience in customer service, but this can be in retail or a non-phone job. In-office jobs may hire someone with no work experience, but home-based jobs rarely will take that chance.
Legally able to work in the U.S., Canada or the country in which you are residing. Home call centers that hire independent contractors may not require this. But employment call center jobs--both virtual and office-based--usually do.
Good speaking manner. This means good grammar, very little accent and a pleasant way of dealing with people.
Ability to pass a criminal background check. Home call center agents must pass a background check (which could also include a credit check too). A few companies ask candidates to pay for these, but most won't.
Ability to pass an online assessment screening. Many companies will make applicants undergo an online test before they can submit an application. These may be personality or skill tests or both. This might include a voice test or a sample call, possibly a phone interview.
Additional Skills Required for Call Center Agents
These may be required by some call center companies, or they may simply be preferred. Keep in mind that the more narrow the requirements for the job the more it likely pays. See more on call center pay.
Previous call center experience
Sales experience
Computer skills such as an understanding of Microsoft Office, email and chat technologies
Word processing at a certain number of words per minute
Bilingual skills
Good math and writing skills
Specialized skills, training or licensing (nursing, insurance, IT, etc.)
Knowledge or experience in the company's industry
Some college or a college degree
Virtual Call Center Agent Only Requirements
Meet specific home office requirements (See typical call center home office requirements)
Purchase of specialized equipment like a headset
Ability to travel to a certain location as times
Residency in a certain area (even for jobs that don't require travel)
Think you've got the stuff to be a call center agent? Read more in this Home Call Center FAQ. Then, check out this list of call center jobs.