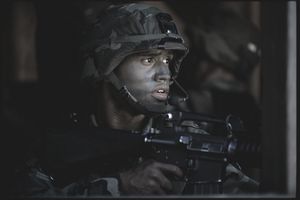 In the movie "Saving Private Ryan," Tom Hanks plays a World War II Army captain charged with rescuing Matt Damon's character, a private whose three brothers have all been killed in the war.
While it made for a compelling drama, and is loosely based on a true story, the military's "only child" rules are widely misunderstood. Many believe that if a soldier (or sailor, or Marine) is an only child, he's ineligible to be drafted at all.
But that isn't quite the case. 
History of the Surviving Son Provision 
The sad story of the Niland brothers was the real-life inspiration for "Saving Private Ryan." When it appeared three of them had been killed overseas during World War II, the fourth, Fritz Niland, was sent back to the U.S. to complete his service. It was later discovered that Edward, one of the Niland brothers believed dead had not been killed but rather taken prisoner. 
There was no formal law in place covering the Niland family. But there were other instances in World War II that led to the "surviving son" policy becoming more common. Four brothers from the Borgstrom family were killed in combat in 1944. Their parents petitioned for their fifth son to be released from service, and a sixth son was exempted from the draft. 
And after two of the Butehorn brothers were killed in 1944 and 1945, the War Department (as it was then known) ordered a third son to be sent home.
These tragedies, along with the 1942 deaths of all five Sullivan brothers aboard the USS Juneau, prompted the War Department to adopt the Sole Surviving Son policy as law.
The Department of Defense (as it's known today) directive protecting family members from the draft or combat service was established in 1948.
It's been updated several times since including during the Vietnam War, to cover not only a sole surviving son or daughter but any son or daughter with a combat-related death in the family.
Combat-Related Death
Federal law allows a "peacetime" draft exception for those who have had an immediate family member (father, mother, brother, or sister) die or become 100 percent disabled as a result of military service. Note the law does not require the person to be the "last" in their line. This exemption only applies to peacetime and not to periods of war or national emergency declared by Congress.
Additionally, the Department of Defense does allow a military member who has an immediate family member who dies on active duty, becomes 100 percent disabled, or becomes a prisoner of war, to request a voluntary discharge. Again, note that the member doesn't have to be the "sole survivor."
This program is also not applicable during times of war or national emergency declared by Congress. Also note it's a voluntary program, for which the military member must apply. Any military member who choose to enlist or re-enlist after the family member's death is considered to have waived their status under this program.
Each branch of the U.S. military has its own regulations which exempt surviving sons and daughters from serving in combat zones. This too is voluntary, and they must have an immediate family member who has died on active duty, become 100 percent service-connected disabled, or in POW status.
Simply being the "last in the line" doesn't qualify someone for this type of discharge.