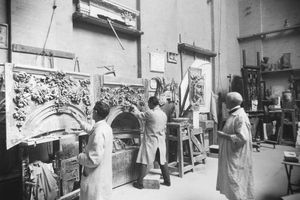 An art studio assistant works for an established artist, whose artworks are in high demand which requires hiring assistants to do the daily operations of the studio so that the artist can devote more time to art creation.
Work duties vary depending on the needs of the artist. The work ranges from general to highly specialized assistance.
Being a studio assistant could include secretarial work, bookkeeping, picking up dry-cleaning, to stretching canvases, fabricating major artworks, and working on production and post-production of artworks.
An art studio assistant could work as an administrative assistant or as a skilled apprentice to the artist. The assistant may work in the artist's studio, the artist's home, or on site at an exhibition installation.
As each artist is different, so is each situation. Studio assistants may work every day, once a week, once a month, or for specific exhibitions.
Besides assisting the artist, it is common for the studio assistant to develop a personal relationship with the artist. So in the best situation, the job is one of mentorship but may turn sour in the worse case.
Education Needed
Art studio assistants are often fresh out of art school or may still be in art school. Working for an established artist helps the studio assistant to see how professional artists work with galleries and museums and how to keep producing new work.
Going to art school is not a requirement to become a studio assistant.
However, it is one of the best ways to make connections with both aspiring and established artists, and eventually leading to a job with an artist.
Skilled painters would work well in a painter's studio, while skilled sculptors and technicians would benefit in a 3D artist's studio.
How to Find a Position
These jobs are often found via word of mouth by people working in the arts.
These jobs mainly take place in cities that have big art centers such as New York. Sometimes these jobs are advertised in job listings and art school bulletin boards.
Career Advancement
Most art studio assistants are young artists who are looking to establish their own art careers. So in most cases, the position of studio assistant is transitory. However, some studio assistants may develop long-term relationships and will work for the artists for decades.