Clickworker Writing and Data Entry Jobs Work at Home
How to Begin Freelance Writing and Data Entry at Clickworker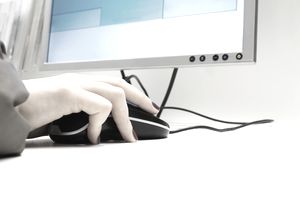 Clickworker is a global company that uses crowdsourcing to distribute micro tasks in fields such as writing, translating, data entry and research to more than 300,000 "clickworkers" worldwide. Clickworkers are independent contractors who use their own computing equipment and set their own schedules to work on small tasks, most of which are part of a large, complex project. The company's clients—which include Honda, T-Mobile, ShareWise and Tennis Point—contract with Clickworker for the completion of a large project.
The company then breaks the project into small tasks, which can be completed by many different freelance workers.
Types of Work-at-Home Opportunities at Clickworker
As is typical in crowdsourcing marketplace micro jobs, the freelancers at Clickworker choose small tasks from the pool of available projects. The types of tasks that are available for a freelancer to choose is based on the qualifications of that freelancer. Qualifications are determined by performance on assessments given during the registration process and on previously completed work.
The types of services performed by Clickworker's freelancers for its clients include:
Writing:
SEO text creation and optimization for online marketing
Product descriptions and the categorization of products in e-commerce
Data Entry and Research:
Structuring large amounts of data by categorizing and indexing
Categorization and tagging of videos, audio content, image
Address enrichment, data validation and online research for databases
Data verification and research
Translation:
Translation of large quantities of short text by native speakers from 70 countries
Pay and Benefits
The company states "On average, we expect that a clickworker earns $9.00 per hour." However, workers are not paid by the hour; payment is on a per piece basis, which means hourly earnings vary significantly depending on how quickly a freelancer works.
Workers receive a fixed fee for each completed job. According to the company, fees "can range anywhere from a few cents to double-digit euro sums." The company pays in either euros or U.S. dollars.
Because Clickworker hires independent contractors, workers do not qualify for benefits and receive no guarantee of a minimum wage. Jobs completed on Clickworker are payable seven days after completion, either to PayPal or a bank account. 
Qualifications and Requirements
There are few requirements for clickworkers. You must be legally able to work in the jurisdiction where you live and have a computer with internet access. U.S. citizens must be at least age 18. Workers must pass assessments to have access to work.
The company hires worldwide, but you must have a bank account in a SEPA (Single Euro Payments Area) country or have a valid PayPal account that can accept payment to work for the company.
Applying to Clickworker
Go to the Clickworker website and click "Register" in the Explore Clickworker section. Fill out your name, address and email, and agree to the terms of service. The company sends an email with a link to log into Clickworker, where you take assessments to see which projects you qualify to work on.
Disclaimer: Ads for home-based jobs or business opportunities on this web page are not necessarily legitimate. These ads are not pre-screened and appear on the page due to having similar keywords to the text on the page. More on sponsored links to work-at-home jobs.