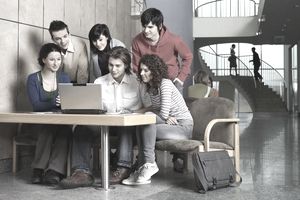 There are many resources available to help college graduates (and students) with a job search. From your college career office to alumni who have volunteered to help, to college job sites that provide job listings and job search tips specifically for students and grads, you'll find a variety of resources available to help with a college job search.
College Job Search Tips
Job search strategies and advice for college and university students and alumni including where to find job search help, the top sites for college students and grads, college career networking, resume and cover letter tips, interview tips, and information on on-campus and off-campus college recruiting programs.
Job Search Assistance
The first and most important college student job search tip, for both underclass students and graduating seniors, is to visit your college or university career office. Most career offices provide college students with personal career counseling, job and internship listings, job search assistance, access to recruiting programs, and career networking assistance. In addition, the staff can help you create a resume, draft cover letters, and review your job search correspondence. Videotaped practice interviewing is also offered by many offices.
Career Office Services 
Personal career advising
Career and company research resources
Job shadowing programs
Campus and off-campus recruiting programs
Job, internship and summer job listings
Job fairs
Job search assistance
Access to recruiting programs
Resume and cover letter writing assistance
Graduate school advising
Career / social networking - alumni networking resources, LinkedIn, Google+ and Facebook groups and pages
Career networking advice, assistance, and programs
Workshops and seminars
Resumes and Cover Letters
A well-written resume and cover letter can make a big difference in the outcome of your search for a job and internship. Your career office may be able to provide resume writing assistance. Also, review samples and tips for resume and cover letter writing.
College Recruiting Programs
Participating in college recruiting programs is a great way to tap opportunities especially for applicants from your school. Many large employers have formal college recruitment programs they use to recruit college students and alumni for jobs, internships, summer jobs and co-op opportunities at the company. Smaller companies also recruit on a less formal basis, posting new job openings as they become available.
College Job Fairs
Many colleges host job fairs, both on and off-campus. Taking the time to attend is well worth the effort. You'll have the opportunity to meet companies that are hiring, learn more about opportunities at those companies, and, and at some events, to even interview for jobs during the event.
College Career Networking
There are numerous opportunities for college students and grads to network and to investigate career options. From building relationships with professors, attending career workshops, and networking with alumni, you can start a career and/or search long before you graduate. Here's how.
Online Job Searching ​
For college students about to enter the workforce, or seeking an internship or summer job, there are a variety of jobs sites dedicated to entry-level jobs.
Resources include job listings, resume posting, job search tips for college students, and a career advice.
Some of these entry level sites work only through college career offices. In those cases, you will need a password from your career office to access the resources. Others are available for all job seekers interested in entry-level positions.
Consider an Internship
Not ready for a "real" job yet? A lot of college students aren't. So, keep in mind that your first job doesn't need to be a full-time or professional position. There are a variety of options available for college students including internships, short-term work experiences, or volunteering. For recent college graduates, as well as college students, an internship is a way to try a new job without making a permanent commitment.
College Student Job Search Strategies
Be flexible and focused. Broaden the number of fields you are considering.
Apply for as many jobs and recruiting opportunities as possible.
Network as extensively as possible.
Do an internship while a student or the summer after graduation.
If you have waited until the last minute to start a job search, don't panic. The college hiring season is not as compressed as it was in the past and there will be plenty of opportunities to apply for.
Get prepared to job search. Before you get going to a job hunt, review these important things that will ensure your job search goes smoothly.