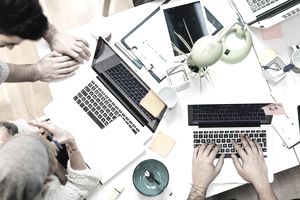 When you're job searching, employers are going to want to know about your computer skills. That's because no matter what the position is, computers will almost certainly be involved. Just think about how ever-present computers are, from our smartphones, to cash registers, to the ordering systems at restaurants. 
How to Highlight Skills During Your Job Application Process
Adding a skills section to your resume is an easy, handy way to draw attention to your abilities, including your computer skills.
Because many companies initially search resumes for desired keywords by computer, a good list can get your application in the door. You can also weave in your skills when you are writing your job descriptions on your resume. For instance, instead of saying "Edited content on website," you could write, "Edited content within Content Management System, using basic HTML for formatting."  
Before writing your cover letter, read the job description carefully. Even very similar positions can have very different requirements. Your cover letter should fit the job you are applying to very directly. The letter also needs to be clear and engaging - not a skills list. However, you can bring up certain specific skills mentioned in the job description. For example, "Your job description calls for web design experience, and in my two years at ABC Company, I have gone from wireframes to full designs for several relaunches." 
Examples of Computer Skills
Prospective employers may want applicants who can use specific programs, such as Adobe Illustrator, or Microsoft Word, but which programs are sought-after in which industries can change rapidly as new technological developments come in.
Here is a non-exclusive list of categories of computer skills.
Consider which of these might be relevant to your particular situation. Then, be sure to mention the programs that belong to each category as you prepare your application materials.
Email, Social Media, and Blogging
Most people with computer access know how to send and receive email, and most have an account on at least one social media platform. Using these tools in a professional context, however, may require a bit more.
For example, the successful candidate might have to know how to set up a company email system or know which social media platforms are best for the company's marketing. A good online media director should not only know what to blog about, but should also know which blogging platform best suits the company's needs and how to link the blog to the company's various social media accounts.
Graphic Design and Word Processing
Creating content for documents, posters, and slide presentations is one important body of skill. But another, equally important body involves using appropriate computer programs to edit, format, and finalize text, images, and sometimes video or audio, in order to create those finished products.
A single project might well pass through multiple computer programs, and a skilled professional needs to know how all relevant programs work and which ones are appropriate at each stage of the work.
Spreadsheets and Databases
A good spreadsheet or database not only stores information, but also makes it easy to reorganize the information quickly to answer new questions, or even conduct certain kinds of data analysis and processing. A spreadsheet can handle anything from payroll accounts to lists of all the characters (and all their characteristics) for a novel.
Again, professional-level skill means more than simply knowing how to use a spreadsheet or database; you also much know which spreadsheet or database program to use and how to structure it for any given project.
IT Troubleshooting
Using computers is one thing. Being able to fix them is another. Basic IT skills begin with knowing how and when to do routine maintenance and how to cope with frozen programs or damaged USB ports. Thorough familiarity with the software and hardware of many different types of computer systems, including all lesser-known features, is the height of the art.
Computer Skills List
Here's a list of computer skills for resumes, cover letters, job applications, and interviews. Since required skills will vary from job to job, it's also helpful to review our list of skills listed by job and type of skill.
A - G
Adobe Illustrator
Adobe InDesign
Adobe Photoshop
Analytics
Android
APIs
Art Design
AutoCAD
Backup Management
C
C++
Certifications
Client Server
Client Support
Configuration
Content Management Systems (CMS)
Corel Draw
Corel Word Perfect
CSS
Desktop Publishing
Design
Diagnostics
Documentation
End User Support
Email
Engineering
Excel
FileMaker Pro
Fortran
Graphic Design
H - M
Hardware
Help Desk
HTML
Implementation
Installation
Internet
iOS
iPhone
Linux
Java
Javascript
Mac
Matlab
Maya
Microsoft Excel
Microsoft Outlook
Microsoft Publisher
Microsoft Word
Microsoft Visual
Mobile
MySQL
N - S
Open Source Software
Oracle
Perl
PHP
Presentations
Processing
Programming
PT Modeler
Python
Ruby
Shade
Software
Spreadsheet
SQL
Support
Systems Administration
Troubleshooting
T - Z
Unix
Web Page Design
Windows
Word Processing
XML
XHTML
More Skills Lists: IT Soft Skills | Information Technology (IT) Skills  | Computer Programming Skills | Computer Science Major Skills | Skills Not to Put on Your Resume