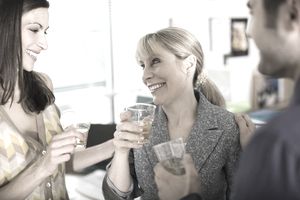 Here is an example of a congratulations note to send to a person who has started a new business venture. You can print and mail your note or send it via email. Letters and other correspondence should be edited to fit your personal situation.
Congratulations Note for a New Business Venture
Dear First Name,
Congratulations on your new venture! It sounds like an exciting opportunity, and I'm looking forward to you watching your progress as the business develops.
If there is anything at all I can do to promote your new business, please let me know. I'd be glad to assist however I can if I can be of help.
Best Regards,
Your Name
Email address
Website/social media links
Phone number
Why You Should Send a Congratulations Note for New Ventures
It is simply good manners to wish friends, family, and acquaintances well when they launch a new endeavor. A friendly note will be welcome, whether by mail or by email. You can accompany it with flowers, balloons or another small token if you have a close relationship.
If you are interested in joining the new venture or business, your note of congratulations is one more way to bring you to mind for future positions. If you provide a product or service that they will need to use, your note also will put you in their good graces. The new business owners may also become a good source for referrals and introductions for you to others in their industry.
You may already have interviewed with them or made a pitch to join their venture or provide your service and have been declined. By sending a friendly note, you will show you wish them well. As their business develops, it is likely that positions will open, or they may want to change vendors or service providers.
Just because you didn't get in on the ground floor doesn't mean you won't have an opportunity to join them in the future.
Be sure to include your contact information with each note. Give them multiple ways to reach out to you via email, social media, telephone or your website.
Continuing Your Support of New Businesses
Follow the new business on social media and re-post items about their upcoming openings, events, product debuts, etc. You may want to send them further congratulations notes for each of these. Each event is another opportunity to show you are interested in their business success. It could lead to an invitation to join their team, apply for a position or bid on their business contracts.