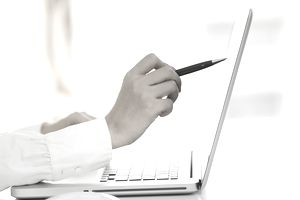 When writing cover letters, your paragraphs should be concise and focus on your qualifications for the job.
Cover Letter Paragraph Guidelines
A cover letter should include three paragraphs:
Introduction
Body/Selling Pitch
Conclusion
The first paragraph explains why you are writing. It is the first impression and a basic explanation of who you are and why you are writing. It is also acceptable to describe how you found the position or why you are interested in the job.
The second paragraph, known as the body of the cover letter, explains why you are qualified for the position. It is the part of the letter where it is most appropriate to highlight your experience, skills, and attributes that make you a perfect candidate for the position.  Don't restate your entire resume; rather focus on the most important factors that make you desirable.  
The third paragraph is a brief conclusion thanking the employer for their time and consideration. Be sure to reiterate your interest in the position and describe how you will next follow up. 
Be sure to leave a space between each paragraph.
Cover Letter Margin Settings
When writing a cover letter for a job, the margins should be approximately 1" all around. The left and right margin will be set at 1, " and the top and bottom margins should also be set at 1".  It gives your cover letter an uncluttered look and provides plenty of white space which helps with readability.
You should align your text to the left; this is how most documents are aligned, so it will make your letter readable.
When You Need More Space for the Letter
If you have more text than fits on a single page, you can tighten up the margins slightly rather than writing a two-page letter. Keep the margins consistent, so your letter is balanced on the page.
For example, if you adjust all the margins to .75" it will give you more lines and space for the letter content.
Another option is to reduce the left and right margin to .75 and leave the top at 1". Try several options to see which looks best.
When You Need Less Space for the Letter
If your letter is short, you can make the margins larger, so the letter looks balanced on the page without too much white space. In that case, try 1.5" for each of the margins.
How to Adjust Page Margin Settings in Microsoft Word
Here's how to adjust the margins in Word:
Click on Page Layout / Margins / Normal (for 1" margins)
There are a variety of other selections, or you can set your own margins by clicking on Page Layout / Margins Custom
How to Adjust Page Margin Settings in Google Docs
Here's how to adjust the margins in Google Docs:
Click on File / Page Set Up
You can adjust all the margins (left, right, top and bottom) from this window.
How to write a cover letter, including what to include in your cover letter, how to write a cover letter, cover letter format, targeted cover letters, and cover letter samples and examples.