Use This Cover Letter Template to Apply for a Job
Template to Use When Writing a Cover Letter for a Job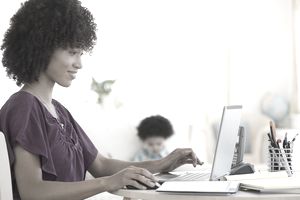 A cover letter is an important part of almost any job application. Hiring managers have certain expectations when it comes to both the details included within a cover letter and how the letter is organized.
The following cover letter template lists the information you need to include in the cover letter you submit with your resume. Use the template as a guideline to create customized cover letters to send to employers.
Read below for tips on how to use a cover letter template, and then use the cover letter template below.
Tips for Using a Cover Letter Template
A cover letter template helps you with the layout of your letter. Templates also show you what elements you need to include in your letter, such as introductions and body paragraphs.
You should use a template as a starting point for your own cover letter. However, you should always customize your letter. Change any of the elements of the template to fit your own needs. For example, if a letter template only has one body paragraph, but you want to include two, you should do so.
Along with using a cover letter template, you might also review cover letter samples and read advice on how to format a cover letter to get ideas on writing your own cover letter.
Cover Letter Template
Contact Information
The first section of your cover letter should include information on how the employer can contact you.
If you have contact information for the employer, include that. Otherwise, just list your information.
Your Contact Information
Your Name
Your Address
Your City, State, Zip Code
Your Phone Number
Your Email Address
Date
Employer Contact Information
Name
Title
Company
Address
City, State, Zip Code
Salutation
Dear Mr./Ms.
Last Name:
The body of your cover letter lets the employer know what position you are applying for, why the employer should select you for an interview, and how you will follow-up.
First Paragraph:
The first paragraph of your letter should include information on why you are writing. Mention the position you are applying for. Include the name of a mutual contact, if you have one. Be clear and concise regarding your request. Your goal is to convince the reader that they should grant the interview or appointment you requested in the first paragraph.
Middle Paragraphs: 
The next section of your cover letter should describe what you have to offer the employer. Make strong connections between your abilities and the employer's needs. Mention specifically how your skills and experience match the job you are applying for. Remember, you are interpreting your resume, not repeating it. Try to support each statement you make with a specific piece of evidence. Use several shorter paragraphs or bullets rather than one large block of text so that your letter is easy to read.
Final Paragraph: 
Conclude your cover letter by thanking the employer for considering you for the position. Include information on how you will follow up.
State that you will do so and indicate when (one week's time is typical).
Complimentary Close
Respectfully yours,
Signature:
Handwritten Signature (for a hard copy letter)
Typed Signature
Create a Personal Cover Letter Template 
Microsoft Word Cover Letter Templates
Microsoft Word cover letter templates are available for a variety of circumstances. Add your personal information to the template to create cover letters you can use for a variety of types of job applications.
Google Docs Cover Letter Templates
Like Microsoft Word, Google Docs offers a variety of professional letter templates that you can use when writing your cover letter. Just fill in the template with your personal information, and save the document in your account.
Email Cover Letter Template
Email cover letters have a slightly different format than other cover letters.
For example, in an email cover letter, you put your contact information at the bottom of the letter, not at the top. You also do not include the employer's contact information or the date at the top.
Just like any other cover letter, it is useful to look at a template when writing an email cover letter. Read here for an email cover letter template.
Related Articles: Tips for Using a Cover Letter Template | Sample Cover Letters | Top 10 Cover Letter Writing Tips | Email Cover Letters