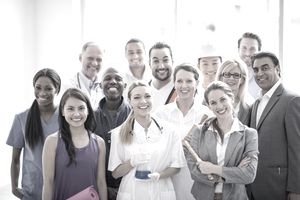 When you are writing cover letters to apply for jobs, it's a good idea to review examples of cover letters that are relevant to the job you are applying for. These sample letters will give you ideas for how to convince the employer that you are a good match for the position.
How to Use Sample Cover Letters
Don't just copy the sample cover letters listed below. Rather, use these samples for inspiration.
Scroll through the sections that follow and find the cover letter that matches the type of job you're applying for (the different jobs are categorized by industry).
Then, read the letter. Keep an eye out for the letter's structure. How is information presented in the sample letter? The body of a cover letter is divided into three sections: 
The opening paragraph: Start off the letter by saying why you're writing. You'll want to mention both the company name and the specific job title you are applying for. You can also note where you saw the job listing. If you have a connection at the company, or were referred to the position, mention that as well. (Just make sure to ask your connection if it's OK to name-drop.) 
The middle paragraphs: Use this space to provide details on why you're a good fit for the position, but avoid recreating your resume. 
The final paragraph: Wrap up your cover letter with a "thank you" and follow-up information. 
As you read through the sample letters below, pay attention to how they follow this structure, using their format, specific details, and quantifiable examples to provide evidence for the letter writer's candidacy.
Think about how you will highlight your own skills and use the limited space available within your cover letter to share the most important information about your work history and accomplishments.
The aspects you highlight in your cover letter should reflect the qualifications listed in the job description — this helps demonstrate that you're a good fit for the position. Here's how to match your qualifications to a job description. 
Notice the word choices and voice used in the example letter you're reading. Look for how the letter writer conveys personality and passion for the position, as well as ​the use of common cover letter phrases, such as "Thank you for your consideration," "I look forward to hearing from you," and "Because of XYZ, I'm a strong candidate for the position." Use these phrases yourself, as necessary, but always aim to keep your letter personalized and genuine.
Cover Letter Examples Listed by Industry and Job
Review this list of cover letters for a variety of different professions and types of jobs to use as a starting point for writing your own personalized cover letters.
Building Trades: When writing a cover letter for a building trade, it can be quite effective to mention a few key construction projects that you've contributed to.
Business Administration: For any administrative position, your cover letter will be your strongest demonstration that you possess the writing and organizational talents employers are looking for.
Communications / Marketing: Showcasing your own personal "tone" or "voice" is particularly vital for job candidates in this sector, since most employers will be interested in how you can use language to present a "brand."
Creative Arts: If you are an artist or photographer, remember to include a link in your cover letter to an online portfolio of your creative work.
Customer / Personal Services: Here is how to write a dynamic cover letter that will catch the interest of employers seeking engaging customer service or personal service providers.
Education: Both cover letters and resumes for people in education and academia tend to be more conservative than those for other industry sectors. In addition to detailing your education and credentials, take the time in your cover letter to comment upon your passion for teaching and learning.
Financial Services: If you are seeking a job in financial services, show off your math and analytical skills by providing a few quantifiable examples (using numbers, percentages, or dollar figures) demonstrating how you've structured successful financial portfolios or increased productivity.
Food Services: Here are a few creative examples of cover letters written for both front- and back-of-house roles.
Healthcare / Medical Research: Items to include on healthcare cover letters include training and certifications, technical and procedural competencies, and knowledge of governing regulations.
Information Technology: If you are an IT professional, make sure that your cover letter mentions any and all software and hardware listed as a "qualification" in the job announcement you're applying for.
Legal / Government / Social Services: Like cover letters in the education sector, those written for jobs in the legal, government, and social service sectors tend to be quite conservative. If you are an attorney or paralegal, stick to a "narrative only" cover letter instead of including bulleted achievements (which works well for other professions but is frowned upon by many legal professionals).
Management / HR: Cover letters for those in management and human resources need to focus upon one's leadership and organizational talents. Include details about the number of employees you've managed, process improvements you've implemented, and any specialized Kaizen or other training you've completed.
Retail / Sales: As a sales representative, your cover letter is your primary (and best) sales pitch to a potential employer. Use it to demonstrate your enthusiasm, charisma, persuasiveness, and consultative selling skills.
Seasonal / Temp Jobs: Even people seeking summer or temporary work need a well-crafted resume in order to stand out from the crowd. Here are a few examples of how it's done.
More Cover Letter Samples
See more cover letter examples, plus templates you can customize to create your own cover letters.
Cover Letter Writing Tips
Tips for creating attention-grabbing cover letters for resumes, including what to include in your cover letter, how to write a cover letter, cover letter format, targeted cover letters, and cover letter samples and examples.