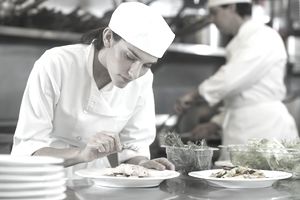 Job Description
Chefs and cooks prepare food in restaurants and other dining establishments. A chef or head cook supervises other culinary workers and oversees the running of the kitchen and, often, the entire establishment. He or she may also be called an executive chef or chefs de cuisine. A cook who works under a chef's or head cook's supervision may be called an assistant or line cook. Alternatively, he or she may have a job title that refers to his or her duties, for example fry, grill or prep cook.
Employment Facts
Chefs and head cooks held approximately 127,500 jobs in 2015. Cooks held about 2.29 million jobs. Most people who are employed in these culinary careers work in restaurants or other dining establishments. Healthcare facilities and schools also employ cooks and some even work in private households.
Jobs are typically full-time and include working during the times people go out to eat—daytime, evenings, weekends and holidays. Those with greater responsibilities, for example, executive chefs, may work 12 hour days.
Work in these occupations is very fast-paced and can be stressful. It also involves standing for long periods of time which can be physically grueling. Injuries are common and usually involve cuts, burns, slips and falls.
Educational Requirements
Aspiring cooks and chefs can take courses in high school or through vocational school programs. In order to work as a head cook or chef, one should complete a formal training program.
Training programs in culinary arts are offered by culinary arts schools, two or four-year colleges and the armed forces. A culinary student will usually complete an internship or apprenticeship during training in order to gain hands-on experience.
Why Do You Need to Know About Educational Requirements?
Other Requirements
A chef may receive certification that demonstrates to an employer that he or she has achieved a certain level of proficiency. The American Culinary Federation is one organization that offers this credential.  In addition to certification, classroom and hands-on training, one also needs certain soft skills, or personal qualities, to succeed in this field. Cooks, in general, must have physical stamina, manual dexterity and a good sense of taste and smell. They must be able to function as a member of a team. Chefs and head cooks must have the creativity to develop recipes. They must be strong leaders and have excellent communication and time management skills.
Advancement Opportunities
Cooks may, with experience and additional training, become head cooks or chefs.
Why Do You Need to Know About Advancement?
Job Outlook
Employment of chefs and head cooks, according to projections by the US Bureau of Labor Statistics, is expected to grow more slowly than the average for all occupations through 2022. Line cooks and others not in supervisory positions will have a better chance of finding jobs since employment growth is expected to be as fast as the average for all occupations during the same time period.
Why Do You Need to Know About Job Outlook?
Earnings
Earnings vary depending on where and in what type of establishment one works. The median annual salary of chefs and head cooks were $41,500 and median hourly wages were $ 19.95 in 2013 (US). Other cooks earned a median annual salary of $21,720 and median hourly wages of $10.44 for the same year.
Use the Salary Wizard at Salary.com to find out how much chefs, head cooks and cooks currently earn in your city.
A Day in a Chef's or Cook's Life:
These are some typical job duties taken from online ads for culinary jobs found on Indeed.com:
Chef/Head Cook
Manage all aspects of kitchen operations, including menu planning, staffing, scheduling, training, and shift execution.
Create theme menus, ideas for ice sculptures, decorations, banquets and special events.
Ensure compliance with federal, state, local and company health, safety and sanitation standards; work in a clean, neat manner, ensuring that all sanitation and nutrition practices are maintained by all kitchen employees at all times.
Create meals that are tasty, visually appealing, and meet the dietary requirements established by the dietitian.
Maintain budget in all financial areas: food, labor, operating costs.
Cook
Assist with preparation and presentation of meals.
Weigh, measure, and mix ingredients according to recipes or personal judgment, using various kitchen utensils and equipment.
Handle special dietary requests and work with guests requiring special requests due to dietary concerns.
Maintain cleanliness, sanitation and organization of assigned work areas.
Prepare at least five orders concurrently as ordered.
Also see Short Order Cook: Career Information
Sources: Bureau of Labor Statistics, US Department of Labor, Occupational Outlook Handbook, 2014-2015 Edition, Chefs and Head Cooks, on the Internet at http://www.bls.gov/ooh/food-preparation-and-serving/chefs-and-head-cooks.htm and Cooks on the Internet at http://www.bls.gov/ooh/food-preparation-and-serving/cooks.htm (visited March 27, 2015).
Employment and Training Administration, US Department of Labor, O*NET Online, Chefs and Head Cooks, on the Internet at http://online.onetcenter.org/link/details/35-1011.00 and Cooks, Restaurant, on the Internet at http://online.onetcenter.org/link/summary/35-2014.00 (visited March 27, 2015).