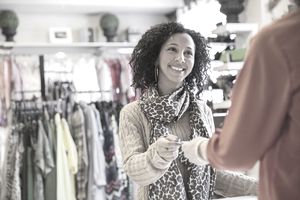 Applying for a job in retail or customer service? Review customer service and retail resume samples while writing or editing your own. This is a great way to get a better idea of how your resume should look and what information to include. 
Often, your resume will be the initial way a potential employer gets to know you, so take the time to make sure it properly displays your best qualities in customer service and includes past experience and retail successes.
Take the time to match your qualifications to the requirements the employer has listed in the job posting.
Here are customer service and retail resume examples to review, plus templates you can use to create your own.
Also read below for tips on writing a resume for a customer service or retail job.
How to Use Resume Samples and Templates
Resume samples are a useful way to guide your own writing. A sample can help you decide what kind of content you should include, as well as how to format your resume.
Resume templates can also be very useful. They help you with the layout of your resume, such as how to organize the different sections of your resume.
While resume samples and templates are great starting points for your own resume, you should always tailor a resume to fit your own skills and abilities, and the job you are applying for.
Tips for Writing a Customer Service and Retail Resume
Use keywords. Look carefully at the job listing for any keywords – important skills or qualifications – included in the listing. Try to use some of these words in your own resume to make it stand out.
Use action words. When describing your achievements, use action words. Words like led, managed, stocked, and processed portray your experiences in an energetic way. Check out a list of action words for useful examples.
Emphasize your related skills. Think about skills that are important in customer service and retail. These range from communication to interpersonal to sales skills. In your resume, include examples of times you displayed these skills. Check out a list of retail skills and a list of the top 10 soft skills for customer service.
Quantify your skills. Use numbers whenever possible to quantify your successes in sales. For example, you might include how much money you managed in the past, how many customers you assisted per day, or the typical size of a sale you made. Numbers are a clear way to show your successes. They easily show an employer how you might contribute to the company.
Emphasize any related academic experiences. If you have any schooling related to retail or sales, include it in your resume. For example, perhaps you majored in merchandising in college, took a high school class in business management, or even attended a seminar series about retail. Any of these related academic experiences are worth including on your resume.
Edit, edit, edit. Proofread your resume carefully before submitting it. A clean, error-free resume will make you look professional. Ask a friend or family member to read the resume for you.
Customer Service and Retail Resume Examples
Review these resume examples related to retail and customer service. These examples can help you format your resume, and think about what kind of information to include in your resume.
Resume Types and Templates
Review the various types of resumes including functional, combination, and targeted resumes.  There are also resume templates you can download to create your own resume. Use these templates to help format your resume.
More Resume Examples
These sample resumes and templates provide job seekers with examples of resume formats that will work for almost every job seeker.
Retail / Customer Service Cover Letters
Cover letter examples for retail and customer service related jobs can help guide you when drafting your cover letter.  Be sure to personalize your letters by explaining how your skills relate to the criteria listed in the job posting.
Related Articles: How to Get a Retail Job | Retail Interview Questions | How Much Does a Retail Supervisor Earn? | How Much Does a Retail Salesperson Earn? | List of Customer Service Skills