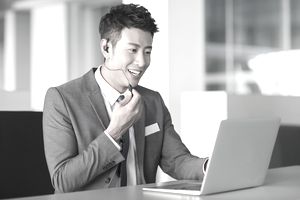 Customer service is one of the fastest growing job categories in the U.S. Overall employment for customer service workers is expected to grow at least 10 percent over the next decade, which is higher than average. While it becomes increasingly easy to interact via smartphone or other electronic devices, these customer-facing roles maintain the personal touch between a company and its customers, no matter how big or out of touch.
Types of Customer Service Jobs
Many customer service jobs are found in retail businesses. Retail stores rely on their employees to provide a high level of customer care at every level. Cashiers, salespeople, management and billing departments are examples of customer service jobs in a retail setting.
The hospitality industry is similarly reliant on customer service employees to maintain their reputation. Restaurants and hotels are staffed largely by employees in the service of providing the most satisfying experience to their clients. Restaurants hire cashiers, hosts, and managers in a customer service capacity. Hotels and resorts hire for a wide variety of customer service positions, including bellman, concierge, front desk associate and front desk manager.
Customer service jobs can be found in many other types of businesses as well, including insurance companies and medical offices. Administrative assistants, receptionists, client relations personnel, benefits coordinators, and medical receptionists are all essential to provide information and services to clients, customers, and patients.
Legal customer service is also a growing industry. Paralegals and other non-attorney staff give status updates, collect information, host prep calls or other informational calls, and prepare documents for clients. Attorneys themselves may use email to reach out to update or gather information directly from clients in order to swiftly move forward with a case.
Yet another category of customer service jobs is technical support. These jobs may require more specialized education and/or on the job training. The number of technical support service roles are growing exponentially with recent technological advancements and the boom of big Tech companies around the country. These companies depend on employees to liaise with customers in order to bridge the gap between the company and those using and buying its services. 
Employees in this type of client-facing position solve technical problems by guiding the customers themselves, or by remotely accessing the system to fix it directly. There are many positions available, including call center staff, contact center help desk, data services specialist, help desk staff and online customer support.
Here's a list of the top ten best jobs in customer service, and the following is a list of customer service related job titles.
Customer Service Job Titles List
A - C
Account Coordinator
Account Management Coordinator
Account Manager
Account Representative
Account Specialist
Administrative Assistant
Assistant Account Manager
Assistant Customer Care Center Manager
Bellman
Benefit Coordinator
Bilingual Customer Service Representative
Business Service Representative
Call Center Customer Support
Call Center Lead
Call Center Representative
Call Center Supervisor
Cashier
Client Account Assistant
Client Distribution Specialist
Client Relations Associate
Client Relations Manager
Client Relations Representative
Client Services Coordinator
Client Services Representative
Client Service Specialist
Client Success Manager
Computer Service Representative
Concierge
Contact Center Help Desk
Contact Center Representative
Custodial Customer Representative
Customer Account Director
Customer Care Associate
Customer Care Coordinator
Customer Care Executive
Customer Care Operator
Customer Care Representative
Customer Care Manager
Customer Care Supervisor
Customer Consultant
Customer Interaction Management Specialist
Customer Liaison Officer
Customer Relationship Specialist
Customer Service Agent
Customer Service Ambassador
Customer Service Asset Manager
Customer Service Associate
Customer Service Engineer
Customer Service Greeter
Customer Service Lead
Customer Service Manager
Customer Service Professional
Customer Service Representative
Customer Service Specialist
Customer Service Strategist
Customer Service Technician
Customer Solution Provider
Customer Solution Representative
Customer Solution Manager
Customer Support Associate
Customer Support Manager
Customer Support Specialist
Client Support Manager
Customer Support Specialist
D - L
Data Services Specialist
Director of  Customer Success and Satisfaction
Dispatcher
Duty Manager
Flight Attendant
Field Technical Support Engineer
Front Desk Agent
Front Desk Associate
Front Desk Coordinator
Front Desk Manager
Front Desk Receptionist
Garage Cashier
Guest Service Agent
Guest Service Representative
Health and Welfare Services Supervisor
Help Desk Associate
Help Desk Support
Help Desk Technician
Hostess
Inside Salesperson
Investment Assistant
M - R
Management Specialist
Manufacturing Customer Service Representative
Medical Receptionist
Online Customer Support
Outbound Calling Representative
Patient Care Coordinator
Receptionist
Rental Representative
Response Services Representatives
Retail Associate
Retail Sales Associate
Sales Assistant
Sales Coordinator
Server
Service Administrator
Service Advisor
Service Consultant
Software Technical Support Analyst
Special Orders Technician
Supervisor of Provider Relations
T - Z
Technical Support Engineer
Technical Support Representatives
Teller
Telephone Support Specialist
Territory Service Representative
Transaction Coordinator
Vehicle Return Associate
More information on job titles and list of job titles for a variety of occupations.
Additional Information: 
Top 10 Soft Skills for Customer Service Jobs 
Customer Service Keywords for Resumes