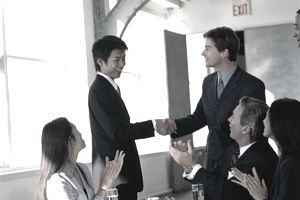 The following is an example of a resume for a customer service management position. It includes a list of qualifications, work experience, and education.
Customer Service Manager Resume Example
James E. Windsor
2000 NE 31st AVE.
Ft. Lauderdale, FL 33302
Phone 594-555-7467
Email: j.windsor@email.com
QUALIFICATIONS:
Substantial experience and outstanding skills in customer service with seventeen years at PRC Realty Systems including five in management.
Accustomed to working in fast-paced environments with the ability to think quickly and successfully handle difficult clients.
Excellent interpersonal skills, ability to work well with others, in both supervisory and support staff roles.
WORK HISTORY:
Installation Manager, Business Center Concepts, Inc., 20XX - present
Oversee the installation of "The Office," a business center offered by AlphaNet Hospitality Systems, Inc. at hotels across the country. Installation includes assembling a desk, connecting credit card readers to each component, and connecting each unit to the master. Provide training to hotel staff and management in use of each component (including Word, Excel, and PowerPoint), and ensure all installation contracts are signed.
Sales Manager, Advanced Technology Components, Inc., 20XX – 20XX
Managed dozens of public- and private-sector clients, supplying clients with electronic components for military, defense, and aerospace projects.
Developed strong relationships with established accounts while acquiring over one dozen new accounts.
Coordinated the administration of product orders, understood customer needs and guaranteed delivery of company's commitment.
Received award in 20XX for salesperson in top 5% of company sales.
Owner/Operator, Entertainment Services, 20XX – 20XX
Marketed video vending machines to restaurant and cocktail lounges
Installed and serviced machines
Made weekly customer service calls to existing customers.
Saw profits increase by 30% over first two years
Account Manager, PRC Realty Systems, 19XX – 20XX
Serviced multiple accounts which included all contractual items
Supervised the on-site staff
Prepared the budget, negotiated contract renewal
Installed all new hardware and software
Maintaining strong customer relationship with directors, MLS committees, and board staff.
EDUCATION:
Certificate, Electronic Technician, TVI
B.A., Business Administration, University of New Mexico
Additional Information  
Resume Examples
Top 10 Resume Writing Tips
Career Summary Definition
​How to Write a Resume Summary