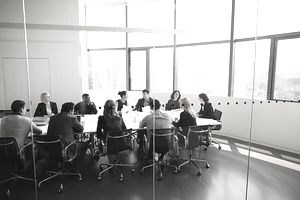 The saying "Nothing ever goes as planned" is as true at work as it is anywhere. Things don't always happen the way we intend them to. Being prepared for these difficulties is important both to the well-being of your employer and to your job success. The employee who solves a problem that threatens productivity, and ultimately the bottom line, will certainly be looked upon favorably.
Next are several situations that are potentially harmful to a company's health.
Along with each one, there is a plan that could help ease the crisis. These plans are not intended to prevent the unpredictable, but rather to make it less detrimental. The situations presented here may never happen to you but other unexpected things will. The lesson you should take from these examples is that you have it within your power to solve significant problems if you just plan a bit in advance. Sure, you can't plan for every mishap but do your best to have a strategy for dealing with things that are most likely to go wrong.
Situation #1
There is a big conference scheduled for mid-morning. The afternoon before the conference you discover the caterer has skipped town with your employer's deposit. Uh-oh. The conference invitation clearly says that a light lunch will be served. While everyone else is in a panic, you calmly walk to your desk and return with a list of caterers who have told you they could cater a luncheon with several hours' notice.
Your boss thanks you. You smile smuggly to yourself, as you remember how your boss insisted on using his caterer rather than the one you suggested.
Situation #2
It's the same conference. The company receptionist, who was to greet those attending the conference, has called in sick with the flu. Everyone else has been assigned another function to ensure this conference, which has been in the works for months, goes off as planned.
No one else is available to cover the receptionist's duties.
Should the attendees just wander into the office with no one there to greet them? Luckily you have planned in advance and you know your employer will not need to be embarrassed. You have put together a list of temporary employment agencies and contacted each one to find out their fees. You have gotten your boss's approval to hire a temp if necessary. As soon as you find out you need someone to meet and greet guests, you call the agency and arrange for someone to work for the day. He will arrive ASAP.
Situation #3
Your company is in the midst of a big publicity campaign for a new product about to hit the market next week. The cost-conscious powers-that-be has decided to print press releases in house, using a usually reliable copier. The copier, however, has decided to be difficult and is producing streaky copies. The repairperson has informed you that she can't come until tomorrow afternoon. Waiting until then to run off the press releases will mean that they will be sent out late, which is completely unacceptable. Being the brilliant person you are, you anticipated this problem. You contacted several nearby copy shops, whose prices are reasonable and whose turnaround is fast.
You rush the documents to them and before the day is over, you have your copies and your boss's gratitude.
Situation #4
You are quietly sitting in your cubicle when you hear a horrified scream come from your boss's office. You run inside half expecting to find him injured or worse. Instead, he is sitting in front of computer staring at a blue screen — his computer has crashed. You reboot the computer, hoping to revive it, but still nothing appears on the monitor. You try to calm him down, while you inquire about the location of the backup disks. He stares at you blankly, unable to comprehend what you are saying. Then he says, "backup disk? — I was planning to do that this afternoon." He then begins to realize that the report he has spent the last week working on may be gone forever. Well, maybe not.
You search through your address file, and pull out three cards, each containing the name of a computer consultant that specializes in data recovery. You have done your homework — not only did you find these consultants, you obtained rates and references for each one in advance. As an added bonus, all make house calls. You make a quick phone call and set up an appointment for later that afternoon. Your boss takes you to lunch to celebrate your infinite wisdom.