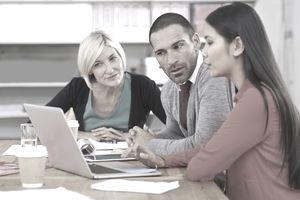 Digital marketing is a broad field that encompasses a variety of career titles, from social media managers, to media planners, to ad buyers, and many more. What all these positions have in common is the use of digital media, either web or mobile, to either reach out to customers or collect data about them—or both.
Although the technical skills and soft skills will vary depending on the position, there is a core skill set valued by all.
Digital marketing, in general, requires expertise with web platforms, strategy, and design, though the field also demands the oral and written communication skills used in traditional marketing.
How to Use Skills Lists
There are a number of ways to use a skills list. You can check to see whether the required skill set for a given job makes the position a good match for you, you can get a sense of what skills you still have to acquire, or you can check for skills you already have but may not have realized are important. Then, when you go to apply for a job, you can use the names of these skills as keywords in your resume or other application materials.
Use your cover letter to further highlight some of your relevant skills, but be prepared to give examples of times you embodied these abilities. Your interviewer is likely to ask.
Of course, hiring managers vary in what they look for, even for very similar positions in the same industry, so make sure you read each job description carefully so you can adjust your application materials before applying.
You may also want to review our lists of skills listed by job and type of skill.
Top Digital Marketing Skills
The following list is not exhaustive, but does explore some of the core skills digital marketers rely on. The more of these you can master, in addition to whatever other relevant skills you possess, the more in-demand you will be.
Analytics
Using electronic media makes it possible to collect huge amounts of information, but these data are useless if not properly analyzed. While you need not perform these analyses yourself, you do need to understand how they work and how to interpret the results. This information is key to creating and implementing effective campaigns - and you can use these numbers to demonstrate to clients exactly how much difference your services make in terms of your bottom line.
SEO Ability
SEO stands for search engine optimization, and it refers to various ways that you can make web content more appealing to search engines. Many people find the companies they do business with through internet searches, and most choose the company whose website comes up at or near the top of the list. At the top of the list is where you want your client to be. Because search engine algorithms are continually changing, SEO must constantly change, too, and so companies that can afford it hire SEO experts in addition to more generalized marketing staff. But even if you are not that expert, you should still know the basics of SEO, so you can understand what your team-mates are doing.
Design and Coding
Just as not all marketers need to be experts in SEO, not all need to be able to do the digital design work necessary to create a visual ad, website, coupon, or other element.
Other people on your team can do that. But you do need to have a basic understanding of how these images are created, and you do need to be able to discuss visual design ideas in order to participate in the work of the team. The same goes for coding. You must at least be familiar with HTML, so that you can discuss ideas with your team-mates fluently.
Content Creation
In digital marketing, content may be text-based, image-based, video, or even audio only, as in podcasts. Your job will be to make sure that content is engaging, professional quality, and on-message. Most marketers specialize, so you may or may not be a writer or a video director yourself, but you do need to understand what professionalism means in all media. Know your way around WordPress, and other content management systems. Understand video editing.
Understand which medium will make your message stand out.
List of Digital Marketing Skills
A - C
Ability to Meet Deadlines
Adaptability
Adobe Illustrator
Assessing the Effectiveness of Digital Marketing Campaigns
Attention to Detail
Collaboration
Compiling Target Lists for Email Marketing Campaigns
Composing Company Releases to Stimulate Blogger Activity
Composing Email Marketing Pieces
Conducting Meetings
Controlling Costs Per Lead Generated
Countering Damaging Brand References in Social Media
Creativity
CSS
Cultivating Relationships with Bloggers
D - N
Decision Making
Developing Online Marketing Strategy
Editing Content
Evaluating New Technology Tools for Digital Marketing
Following Emerging Trends in Digital Marketing
Generating Reports for Management regarding Digital Marketing Activity
Google Analytics
HTML
InDesign
Java Script
Mathematical
Microsoft Excel
Multitasking
Negotiating Digital Media Packages
O - R
Organizational
Photoshop
Pitching Digital Marketing Proposals to Internal or External Stakeholders
Planting Stories within Social Media
PowerPoint
Presentation
Problem Solving
Producing Promotional Videos
Project Management
Recognizing Seasonal, Daily and Monthly Trends in Viewer Traffic
Research
S - Z
Search Engine Optimization
Selecting the Optimal Online Media for Campaigns
Storytelling
Structuring Test or Beta Digital Marketing Initiatives
Supervising Creative Staff
Tailoring Marketing Pitches towards Target Demographics
Taking Initiative
Teamwork
Thriving in a Results Driven Role
Time Management
Tracking Consumer Reactions and Conversations within Social Media
Utilizing Content Management Systems
Verbal Communication
Working Independently
Writing Copy for Ads
More Skills Lists: Employment Skills Listed by Job | Lists of Skills for Resumes
What Else You Need to Know: Soft vs. Hard Skills | How to Include Keywords in Your Resume | List of Keywords for Resumes and Cover Letters | Resume Skills Lists