DionData Solutions Work at Home Data Services
Work at Home Data Entry With DionData Solutions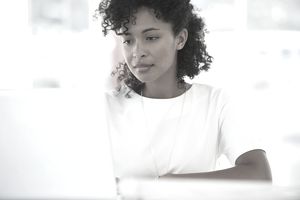 Data management firm DionData Solutions uses home-based independent contractors to perform data entry from home. The company also uses in-house staff and promises a 24-hour, 7-days-a-week production environment to efficiently process data for clients in any time zone.
Types of Work-at-Home Opportunities at DionData Solutions
Data entry independent contractors at DionData enter data from images of documents, often handwritten ones such as applications.
The work is compensated on a per piece basis. In addition to using scanned images, DionData Solutions provides accurate data entry from:
Hard copy
Handwritten originals
Typed copy
Online sources
The company promises 98.5 percent or better accuracy rate for data that is not considered highly sensitive by the client, and 99.995% accuracy rates for extremely critical data, which is keyed in twice by different individuals. The second operator does not see the original data of the first operator. The system stops on a keystroke mismatch, prompting a correction.
Work-at-home contractors typically key data for:
Medical claims
Catalogs
Surveys
Inventories
Warranty cards
Product registration cards
Subscription fulfillments
Mailing lists
Applying to DionData Solutions
The DionData Solutions website says it is accepting applications. However, that doesn't necessarily mean it is hiring. At times you may find this message, and there is no link to an application on the site.
Applications are accepted by email only. You must download a Word document, fill it out and then return it by email. It is a fairly standard job application, asking about your skills, education and references. It asks for your availability in days of the week, about days you are not available and your preferred time of day to work.
You are asked about the type of computer you own, its operating system and about any other relevant office equipment. 
Although DionData Solutions says it can't respond to all applicants due to the high volume of applications, the company encourages applicants to resubmit after 90 days. DionData Solutions keeps a list of possible contractors and hires as needed.
Qualifications and Requirements
DionData lists several qualifications of its home data entry operators:
60 word-per-minute accurate typing skills
basic computer skills, such as sending and receiving email with attachments, using the internet, uploading and downloading files
the ability to work independently on multiple projects simultaneously
excellent communication skills—written and verbal
U.S. citizenship and residency
Operators must provide and maintain their own desktop computer—dual monitors is a plus—and a high-speed internet connection. DSL or cable is preferred.
Pay and Benefits
All data entry agents are hired as independent contractors, which means there are no benefits and no guarantee of a minimum wage. Home data entry jobs often play less than the minimum wage, especially at the beginning before the data entry worker has developed sufficient familiarity with the process to work quickly.
DionData Solutions pays its data entry operators on a per piece basis, which is typical. Read more about how and what data entry companies pay.