Doctor Appointment Letter Examples for Missing Work
Sample Absence Notes for a Doctor's Visit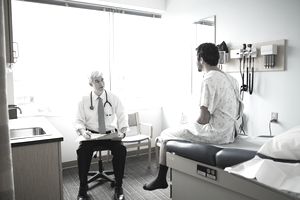 Do you need to provide your employer with formal notification when you miss work because of a doctor appointment? Some employers required employees to provide written notice when they are absent from work. In some cases, you may need to write a letter or an email documenting your absence. In others, verbal notice may be sufficient.
Workplace Absence Policies
Always ask what the general policies are regarding absence and leave for medical appointments before you need to apply them.
Do not assume that your current workplace has the same policies as previous ones did. Policies can also change, so the wisest course is always to inform your supervisor, if possible, that you need to take leave for a medical appointment. A week's notice is probably ample time, unless you are involved in a deadline-critical project where you know your absence will be missed. In this case, try to give your supervisor extra time so that suitable arrangements for a substitute can be made.
When written notice is required, you may need to write the letter or your employer may ask for a letter from your doctor. The examples provided here are only for general guidance, so edit to fit your personal situation and to meet the requirements of your workplace.
What Does Your Workplace Require for Absence Notes?
You may need to notify your supervisor in advance of scheduled appointments in order to be excused.
If you didn't do so, your absence may have disciplinary repercussions. For emergency appointments, however, you may be able to submit an excuse letter after the fact.
Some workplaces may require a written, signed note while others may accept an email, fax, or text message. Send or hand in the note as soon as you return to work, as some employers have a time limit on receiving them.
Your employer may also have a policy requiring documentation of the appointment, such as a note from the doctor's office. If this is the case, you may wish to request such a note at the time of your doctor's appointment, or have the office cosign a note similar to this one.
Sample Doctor's Visit Letter
Has a scheduled or an unanticipated doctor's visit forced you to miss work without having the chance to alert your employer ahead of time? Write a letter similar to this sample doctor's visit letter when you need to provide written notice that you have missed work because of a doctor's appointment.
Date
Name
Address
City, State, Zip Code
Dear Mr./Ms. Last Name:
Please accept this letter as written notification that I was unable to attend work on Monday, June 15, 20XX, because of a previously scheduled doctor's appointment.
Please let me know if I can provide any further information or documentation.
Sincerely,
Your Signature (hard copy letter)
Your Typed Name
Sending an Email Message
If you would prefer to email your notification, make sure your message reads professionally. Include your email address and a phone number where you can be reached, should your employer have any questions.
Sample Physician's Note
If your employer requires written documentation of a doctor's visit, your medical office may have a standard notification on letterhead that they can print upon request.
If not, you should compose an excuse like the following example and have your physician sign it at the end of your appointment.
Date
Physician's Name
Address
City, State, Zip Code
To Whom It May Concern:
Please accept this letter as documentation that I treated [insert Name of Employee] during an appointment in my office on Monday, May 9, 20XX, at 2:00 p.m.
Should you need additional confirmation, please feel free to contact my office staff at (XXX) XXX-XXXX.
Sincerely,
Physician's Signature (hard copy letter)
Physician's Typed Name, M.D.
Additional Steps May be Required
You may need to follow up and document your absence in the timekeeping system, and request leave retroactively. In workplaces with stricter human resources policies, you may be on an "absent without leave" status until your leave request is submitted and approved.
This can result in disciplinary actions by some employers if you do not follow all of their procedures.
While preventative medical care and treatment of conditions are important for a healthy workforce, time and attendance issues and policies must still be followed. You might be able to beg for forgiveness for forgetting a scheduled appointment once, but repeated instances may put you in a bad light with your employer.
More Absence Excuse Letters
Employees may need to provide an excuse letter when they miss time from work for other reasons than illness. Sample excuse letters for a variety of circumstances can be edited to fit your personal and professional situation.