Air Force Educational Leave of Absence Program
Airmen can attend college and still remain active duty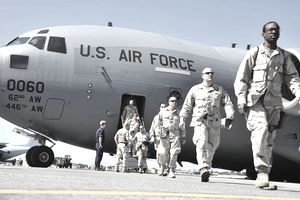 The Air Force Educational Leave of Absence Program (AFELA or ELA) allows Air Force members to attend college, full-time, for up to two years, in order to complete a degree program (bachelor's, master's, Ph.D., etc.), while remaining on active duty. In exchange, the member agrees to extend his or her active-duty commitment. The program allows for Air Force members to attend an accredited school full-time to obtain a degree of any level
Qualifying for Air Force ELA Program
Both officers and enlisted airmen are eligible for an educational leave of absence. For enlisted members, they must have completed their initial enlistment and have reenlisted. For officers, they must have completed their initial period of obligated service incurred from their commissioning source.
In both cases, the member must be retainable and agree to a "2 for 1" service commitment—for every one day of time on ELA, the commitment is two days, with this ELA commitment starting upon completion of the program. To be on ELA, the member must be enrolled full-time as defined by the educational institution. Finally, the member does not need to have completed coursework in this degree program prior to starting ELA.
Length of Air Force ELA
ELA is authorized for up to two calendar years, including term breaks. Your education office may require justification or a waiver to be signed in order to go beyond one year; the former Bootstrap benefit used to be a one-year-only leave.
Benefits and Pay While on Air Force ELA
Members continue to be active duty, retain all medical benefits, build time in rank, and can be promoted while they're on ELA. However, members will receive their base pay only. No allowances are authorized. This means no BAH (Basic Allowance for Housing) or BAS (Basic Allowance for Subsistence).
If living on base, the member will be charged rent during the time they are on ELA. However, certain incentive pays, including retention bonuses, are usually still allowed. (In general, if it is pay, and is therefore taxed, you still receive this while on ELA. Allowances, which are not taxed, are not authorized during ELA.)
Furthermore, the Air Force does not pay for any expenses incurred for attending school. So tuition assistance (TA) and moving expenses (if moving from your assigned base to attend school) are not authorized. So it's important for ELA candidates to consider whether TA or the opportunity to attend school full-time is more important for their situation.
Finally, while on ELA, members continue to accrue leave, at the usual rate of 2.5 days per month. Members are not charged leave for term breaks. Because the member is already being charged a 2x service commitment, it would be illegal to charge a service commitment for the time that is also being charged as leave.
Applying for Air Force ELA
The process for applying to an ELA starts with getting your supervisor's consent, which should be done before applying for any program. A member who is currently working part-time on a degree should be sure to talk to a supervisor before committing to a course load that would require full-time participation.
Next, go to your base education office, which will guide you through the paperwork for ELA application. Final authority rests with the local commander level, but in most cases, the paperwork will only need to be signed by your organization's leadership.
For enlisted members, note that ELA is not a commissioning program. While enlisted personnel can use this program to obtain the necessary bachelor's degree to become an officer, the application for Officer Training School (OTS) is a separate process.