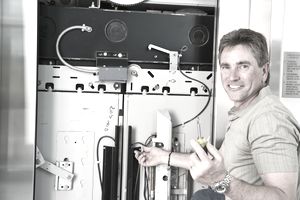 Elevator mechanics install, maintain, or fix elevators, escalators and moving walkways. Each type of work—installation, maintenance, and repair—requires a different skill set, and therefore those who work in this occupation usually specialize in one area. Elevator mechanics may also be called elevator installers, repairers, or constructors. 
Quick Facts
21,000 people worked in this field in 2014.
Jobs are typically full time
Those who want to work in this field can expect a high demand for workers, but competition will also be intense. The U.S. Bureau of Labor Statistics predicts the job outlook will be good, with employment that will grow much faster than the average for all occupations through 2024. However, many people will apply for the available jobs.
What Does an Elevator Mechanic Do?
These are some typical job duties taken from online ads for elevator mechanic positions found on  Indeed.com:
"Examine, maintain, and repair elevators as well as other conveyance types"
"Determine the need for and perform major overhaul or replacement of defective equipment"
"Perform proper time keeping and accounting of materials and expenses for assigned projects"
"Read and interpret blueprints"
"Follow appropriate maintenance and service procedures"
"Meet and assist with third party municipal inspections"
The Downside of Working in This Occupation
Elevator mechanics may have to be "on-call" to respond to emergencies and do repairs during the night, and on weekends and holidays
They spend time in tight places
This work can be dangerous. Injuries caused by falls, burns, and muscle pulls are a strong possibility.
How to Become an Elevator Mechanic
To prepare to work in this occupation, you will complete a four-year apprenticeship that consists of 144 hours of technical instruction and 2,000 hours of paid on-the-job training. You will learn electrical and electronic theory, mathematics, physics, safety, and how to read blueprints.
Apprenticeships, which are usually sponsored by unions and contractors, are open to high school graduates or those who have earned equivalency diplomas. Applicants must be at least 18 years old and physically able to do the job. Before a program admits you, you will have to pass a math, reading and mechanical aptitude test. Taking math, shop, and mechanical drawing classes in high school will help get you ready.
Elevator mechanics must have a license to work in some states. To find out if your state requires one, see the Licensed Occupation Tool from CareerOneStop (Hint: typing only the word "elevator" into the search box will bring up all relevant job titles).
Although it is not required, some people working in this field choose to become certified. Voluntary certification, available from trade associations like the National Association of Elevator Contractors can make a job candidate more appealing to an employer since it demonstrates that he or she has met certain standards.
What Soft Skills Will You Need?
In addition to your training, and a license and certification, if required, you will also need certain soft skills. These are personal attributes that will allow you to succeed at your job.
Physical Strength and Stamina: As an elevator mechanic you must be able to lift heavy equipment and do grueling work for extended time periods.
Detail Oriented: This ability will allow you to keep track of maintenance schedules.
Troubleshooting: You will have to determine the causes of problems.
Critical Thinking: Before you can fix some problems, you will have to identify and compare alternative solutions.
What Will Employers Expect From You?
In addition to skills and experience, what qualities do employers look for when they hire workers? Here are some requirements from actual job announcements found on Indeed.com:
"Demonstrated customer service skills and the ability to remain calm when confronted with difficult situations"
"Applicant must be able to lift and move eighty pounds without assistance"
"Must be a strong team player and must be able to work independently and as a team member"
"Must be self-motivated"
"Takes direction in a positive manner"
"Must have demonstrated strong mechanical reasoning and comprehension skills plus hands-on mechanical aptitude"
"Able to follow instructions, make suggestions, and is willing to learn"
Is This Occupation a Good Fit for You?
Holland Code: RIC (Realistic, Investigative, Conventional)
MBTI Personality Types: ISTJ, ESTP, ISTP, ISFP (Tieger, Paul D., Barron, Barbara, and Tieger, Kelly. (2014) Do What You Are. NY: Hatchette Book Group.)
Occupations With Related Activities and Tasks
|   | Description | Median Annual Wage (2015) | Minimum Required Education/Training |
| --- | --- | --- | --- |
| Electrician | Installs wiring and other electrical components in residences and businesses. | $51,880 | Apprenticeship |
| Boilermaker | Makes, installs and repairs boilers, vats, and tanks.  | $60,120 | Apprenticeship or trade school |
| Sheet Metal Worker | Fabricates and installs products that are made of thin sheets of metal. | $45,750 | Apprenticeship |
Sources:
Bureau of Labor Statistics, U.S. Department of Labor, Occupational Outlook Handbook, 2016-17 (visited October 27, 2016 ).
Employment and Training Administration, U.S. Department of Labor, O*NET Online (visited October 27, 2016).