Entry Level Interview Questions and Answers
Typical Questions Asked During Entry Level Job Interviews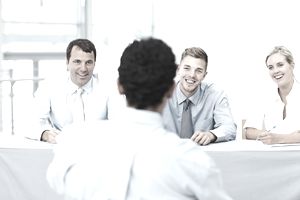 Are you a student or a recent graduate looking for an entry level job? What can you expect during the job interview? The interview questions that hiring managers ask entry level candidates will typically be focused on why you are interested in the job and why the company should hire you.
Even if you have limited work experience, you can still answer these kinds of interview questions well. Review these entry level interview questions and sample answers.
Consider how you would answer, so you're ready to respond during the job interview.
How to Prepare for the Interview
Research the company. Before the interview, do some research on the company. Review the "About Us" section of the company website to get a sense of their mission and company culture. If you know someone who works at the company, you might ask them a bit about the company too. This will help you answer questions about the company, and why you are a good fit for the organization.
Review the job description. Reread the job listing before your interview to get a sense of what skills and qualities the employer is looking for in a candidate. At least some of the interview questions will be about whether or not you have these skills. The interviewer might even ask for examples of times you demonstrated those skills and qualities.
Use examples from outside of work. When thinking of examples of times you demonstrated particular skills or qualities, you can use examples from work and non-work experiences. For example, you can draw on experiences from school or extracurricular activities. You can also draw on work experiences even if they are not directly related to the job. As long as you can show you have the qualities and skills for the position, any of these kinds of examples will work.
Prepare questions to ask the interviewer. Along with preparing answers to common interview questions, you should also prepare questions to ask the interviewer. Prepare questions that will give you more information on the job and company, while also further highlighting your qualities, skills, and experience.​​
Entry Level Interview Questions
Questions About College
Questions About Your Work Experience
Have you completed any internships? What did you gain from the experience? - Best Answers
Tell me about your work experience. How has it prepared you for a career? - Best Answers
Have you accomplished something you're proud of at work? - Best Answers
What major problems have you encountered at work and how did you deal with them? - Best Answers
What have you learned from your mistakes? - Best Answers
Questions About You
Questions About the Future
What do you see yourself doing five years from now? - Best Answers
What do you see yourself doing ten years from now? - Best Answers
How do you plan to achieve your goals? - Best Answers
What are you looking for in your next job? What is important to you? - Best Answers
Questions About the Company and the Job
Interview Tips for Entry Level Candidates
Landing your first job can be intimidating, but knowing how to approach the process can take a lot of the pressure off and allow you to present yourself confidently and professionally. Here are a few things to remember:
Dress appropriately. What you wear to an interview has an impact on that all important first impression you make, and can influence whether or not you get the job.
Don't lie or embellish your background (to do so is grounds for dismissal), but emphasize and advocate for the strengths and skills you have acquired through your education, past employment and experience.
Employers appreciate confidence and pride in the work experience you have gained, and your ability to transfer your skills to your next position.
During your meeting, you'll probably be asked typical entry level interview questions, as well as other common job interview questions. When you are a college student or recent graduate, it's important to relate your college education, extracurricular activities, and experiences to the job for which you are applying. 
Interview Questions to Ask
The last job interview question you may be asked is "What can I answer for you?" Have an interview question or two of your own ready to ask. You aren't simply trying to get this job – you are also interviewing the employer to assess whether this company and the position are a good fit for you.