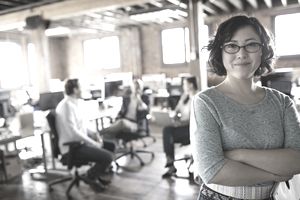 The following is a resume for an entry-level management position. Even though this recent graduate has limited work experience, she has successfully demonstrated how she has added value at each company she's worked for. Being able to quantify your success with tangible examples of your contributions in the workplace will demonstrate the weight and the value of your responsibilities and achievements.
In creating your own entry level management resume, it is important to clearly demonstrate how the skills and knowledge you have gained both in your education and in any work experience make you a good match for the requirements an employer presents in their job posting. Before writing the resume, it's a good idea to create a comparative list of the employer's requirements and of your work or school achievements which match these qualifications. This will enable you to effectively focus your resume to respond directly and persuasively to the specific job opening.
In reviewing a management job announcement, you'll also notice that there are particular "keywords" that the hiring manager who wrote the ad utilizes – these keywords reflect the core competencies that the company is seeking in its new manager.
Some examples of entry level management keywords are: "leadership," "operations management," "scheduling," "inventory control," "customer service," "sales planning," "churn reduction," "business development," "hiring," "interviewing," "business analysis," "client relations," "human resources management," "budgeting," "goal setting," "reporting," "profit and loss (P&L) management," "risk management," and "resources management."
Try to echo as many of these keywords as possible in the text of your resume. This will ensure that your resume receives a high placement by the automated parsing systems that many employers utilize during their initial screening of applicant resumes.
Entry Level Management Resume Example
This resume example includes sections on education, related coursework, work experience, technical skills, and other activities.
Paulette Jones
6 Barclay Street Arlington, MA 12333
555.555.5555 (home)    
566.486.2222 (cell)
phjones@mapp.com
EDUCATION
B.A., Business Management, January 20XX
St. John's University, Smithtown, California
3.75 GPA 
Graduated Magna cum Laude, Dean's List (every semester), Phi Eta Sigma National Honor Society
RELATED COURSEWORK
Managerial Strategy and Policy, Management Information Systems, Management and the External Environment, Calculus with Business Applications, Organizational Decision Making, Systems Analysis
WORK EXPERIENCE
The Space Store
Manager
Month 20XX to Present
Concurrent with undergraduate education, work full-time as Manager tasked with facilitating day shift operations for high-volume retail store. Schedule and supervise sales personnel and warehouse staff; address and resolve escalated customer service issues. Conduct regular inventories of stock to optimize supply levels and ensure ready availability of products to customers. Provide formal and one-on-one training to new sales associates. Assist employees with on-the-floor issues, from customer service to technical issues with the online sketching system.
Manage and schedule personnel training for over 50 employees.
Co-created staff development plan offering training opportunities to encourage growth and increase responsibility.
Led annual weekend orientation training retreat for 20-30 new employees.
Identified by customers as a clear and efficient communicator in multiple online reviews.
Doug's Pizza
Manager
Month 20XX to Month 20XX
Swiftly promoted from initial role as cashier to management responsibility based upon leadership, personnel initiatives, and motivational team-building skills. Meticulously managed all sales, production, and administrative operations, to include personnel scheduling, inventory control, reports, and customer service initiatives.
Implemented new online scheduling system for employees, leading to a 25% reduction in employees missing or arriving late to shifts.
Created and ran monthly team development sessions that offered training to expand employee responsibilities, helping increase employee retention by 15%.
Doug's Pizza
Cashier 
Month 20XX to Month 20XX
Brought on board to provide quality service to customers of popular local pizzeria. Greeted customers, transferred orders to kitchen, and handled all cash and credit transactions with 100% accuracy. Ensured the cleanliness of front-of-house seating area.
Responsible for customer service including order-taking and cash register operations.
Pitched, developed and implemented customer feedback cards and new customer feedback online form that led to a 30% increase in customer feedback.
TECHNICAL SKILLS
Microsoft Word, Excel, Power Point, Access, Minitab, C, C++
OTHER ACTIVITIES
Member of the Youth Development Association
Peer tutor in Macro Economics and Micro Economics
Member of Association of Management Training
More Advice for Entry Level Candidates: Resume Examples | Top 10 Resume Writing Tips | Resume Sample for a College Senior | Interview Tips for College Students