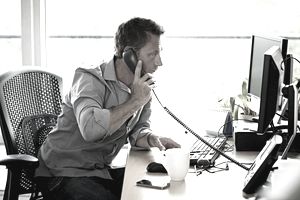 Have you received an email or instant message from a recruiter who says you are a perfect candidate for the job they are trying to fill? It could be legitimate - or it may not be. There are scammers who impersonate recruiters to try to get your personal information to use for identity theft.
With this scam, a job seeker receives a phone call or email from a "recruiter" for a job opening that is listed online.
In some cases, the person who calls has a copy of your resume and has matched the job description to your resume. The fake recruiter says you are an ideal candidate for the job.
Fake Recruiter Scams
Then, and this is a warning sign, they ask for all or for the last four numbers of your social security number, along with other personal information. Then they asked you to fill out a form online to start the hiring processing. The job is often listed as a position posted by a Fortune 500 company, so the name recognition alone can lead job applicants to believe it's legitimate.
How The Scammer Got Your Information
The scammer most likely got your personal information by posing as an employer on a job board and accessing resumes that have been posted online.
Check Out the Recruiter
Before you give out any personal information to a recruiter, and they don't ever need your social security number, check them out to make sure they are legitimate.
Check his or her LinkedIn profile and the company page for their employer.
Google the person's name plus scam, to see if there have been any complaints. Also, check directories of recruiters like Bullhorn's Find a Recruiter, which is searchable by keyword (use last name) and location. If you're still not sure, ask for client references and check them out.