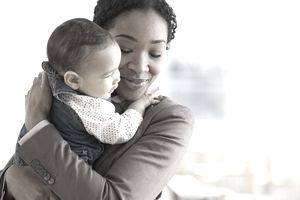 The Family and Medical Leave Act (FMLA) is a federal law that can be of assistance if you need to take time off of work because of family responsibilities. Enacted in 1993, FMLA requires certain companies to provide employees unpaid leave for issues related to family (such as caring for a newborn or adopted child) or health issues (either your health or the health of a family member).
However, not all employers need to adhere to FMLA, and not all employees are eligible. Your company might even provide additional benefits, like paid maternity leave, or you may be eligible for disability insurance. Therefore, the first step is to ask your employer what Family and Medical Leave Act benefits are provided to employees.
Read below for more information about FMLA, including what it covers, who is eligible, and how to talk to your employer about FMLA.
What it Covers
At the very least, all covered employers (typically employers of over 50 workers) must provide eligible employees up to 12 workweeks of unpaid FMLA leave during any 12-month period. These 12 workweeks do not need to be consecutive.
In addition, the employer must give the employee his or her job back or offer them another position with equivalent pay and benefits. During this period, the employee still has all health benefits provided by the company, including health insurance.
Who's Eligible
An FMLA eligible employee is an employee who has been employed for their employer at least 12 months, has worked at least 1,250 hours over the past 12 months, and works at a location where the company employs 50 or more employees within 75 miles.
Under the Family and Medical Leave Act, covered employers must grant an eligible employee up to a total of 12 workweeks of unpaid leave during any 12-month period for one or more of the following reasons:
for the birth and care of the newborn child of the employee
for care for an adopted child or child in foster care
to care for an immediate family member (spouse, child, or parent) with a serious health condition
to take medical leave when the employee is unable to work because of a serious health condition
to deal with emergencies related to a family member's active military duty (see below).
FMLA applies to both mothers and fathers, including same-sex spouses (as of February 23, 2015).
Military FMLA
The National Defense Authorization Act extends coverage to employees with spouses, children, or parents who are now serving on (or who have been called up for) active duty in the military. If these employees are covered by their employers, they can be granted up to 12 weeks of unpaid leave for emergencies arising from a family member's active military duty. These emergencies might include the following:
childcare for the child of a deployed military member
attending certain military briefings or ceremonies
making financial or legal arrangements related to the military member's absence
If the military member becomes seriously ill or injured while on active duty, coverage may be extended up to 26 weeks of unpaid leave each year.
Additional Information
FMLA may be taken on an intermittent basis allowing the employee to work on a less than full-time schedule.
If you are covered by health insurance (or receive any other group health benefits), your employer must maintain that coverage while you are on leave.
If your manager isn't aware of the FMLA guidelines, check with the Human Resources department directly.
California recently implemented a Paid Family Leave (PFL) insurance program, which when taken in conjunction with FMLA and California Family Rights Act (CFRA) leave, provides up to six weeks paid leave.  The program is administered by the State Disability Insurance Program.  Other locations may have programs, so, check to determine what benefits you are eligible for.
How to Tell Your Boss
Before talking to your boss and human resources department about wanting to take FMLA leave, see if your employer qualifies for FMLA leave. Check with your company's human resources office. Also see if your company provides other benefits related to your situation, such as maternity or paternity leave, or disability insurance.
When you need to take FMLA leave, speak with your employer as soon as possible. You are required to provide 30-day advance notice (in writing) when the need is foreseeable (for example, if you know you are adopting a child and will need to take leave). However, if you are unable to tell your boss ahead of time (for example, if you are in an accident and are hospitalized), provide your boss with as much notice as possible.