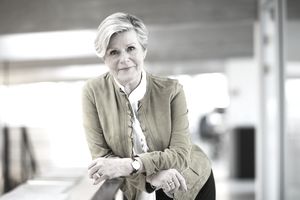 Even though experience should count when you're job searching, it's not necessarily an asset these days. The older you are, the longer it can take and the more difficult it can be to find a job. You can be considered "old" in your forties and fifties, and sometimes even younger.​
Fashion Tips for Older Job Seekers
You can strategically write your resume and cover letter, but you can't change the basic facts - your actual age and your employment history are etched in stone.
However, there are ways you can work on your appearance when you are job searching. And that can make a big difference when you're interviewing.
Here are tips from a former fashion expert, Cynthia Nellis, on updating your appearance, so you can use your age and experience to your advantage rather than being considered dated when you're job searching or moving up the career ladder.
How to Update Your Image
Cynthia says, "The three tip-offs to a woman's age: hair cut/color, shoes, and handbag. I've found that those three things are the least likely to be updated in our wardrobes on a regular basis." Here is Cynthia's expert advice on how to update your job search image.
Update Your Haircut and Color
I think an updated haircut and color is one of the most transformative measures you can take to project an updated image. How do you know if it's time for a change in hairstyle? Well, if it's been more than five years since you've done a major overhaul, you can pretty much be sure that your style is outdated.
There are so many great styles for older women, from a chin-length bob to a cute, cropped pixie haircut like Jamie Lee Curtis wears. Find someone in your office with a hairstyle you like and ask for where she gets it done. A trusted stylist can guide you in the right way for both style and color.
Choose Comfort Shoes With Style
As for shoes, I know that comfort is key as we age, but that doesn't mean you need to be wearing white sneakers to work.
So-called comfort shoes come in all sorts of price levels and you can find some pretty fabulous work pumps that deliver comfort and style. Rockport makes all sort of comfy boots and pumps, and there are many styles like Bella Vista and Fitzwell for budget-minded gals on sites like Zappos.
Get an Updated Classic Handbag
For the office and job interviews, you don't need to carry a trendy handbag (nothing with studs or crossbody styles) but make sure it is updated. In general, women's handbags have gotten larger and softer over the years, with styles like hobos with pockets becoming work classics. The easiest way to buy an updated handbag is to shop in a store that carries younger or more contemporary items that are work ready, like Banana Republic.
What to Wear to an Interview
There are so many alternatives for women in the workplace right now, in addition to traditional suits. A cardigan worn belted over a pencil skirt or trousers gives a polished option. A shirt dress looks pulled together and professional. And pantsuits (yes, the matchy-matchy kind) are a big fashion trend that will never go out of style in the boardroom.