Learn About Becoming an FBI Agent
A Look at the Qualifications and Requirements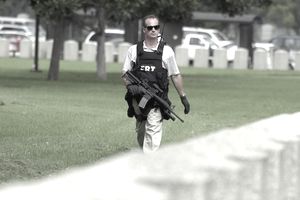 An FBI Agent is an employee of the Federal Bureau of Investigation, the federal government's chief office of investigation and one of the world's most elite law enforcement agencies. FBI Agents - known as Special Agents - use intelligence to protect the nation from threats and to bring to justice those who violate the law. With jurisdiction over the violation of more than 260 laws, FBI Agents investigate federal crimes such as terrorism, espionage, white-collar crime, bank robberies, blackmail, racketeering, drug trafficking, interstate criminal activity, copyright infringement, and civil rights violations.​
Job Duties
The FBI Agent's primary role is to oversee intelligence and investigate crimes. Agents perform a wide spectrum of duties from tracking the movement of stolen goods across state lines and examining accounting and business records to conducting surveillance, listening to legal wiretaps, and performing undercover investigations.
Special Agent careers in the FBI are divided into five career paths: Intelligence, Counterintelligence, Counterterrorism, Criminal, and Cyber. In addition, those in Counterintelligence or Counterterrorism may enter into a Weapons of Mass Destruction specialty.
Education and Experience
Serving as an FBI Agent is a demanding job with strict entry requirements. FBI Agents must possess a four-year degree from an accredited college or university and have at least three years of professional work experience. Applicants must also qualify under one of five Special Agent Entry Programs: Accounting, Computer Science/Information Technology, Language, Law or Diversified. Exceptional academic credentials and foreign language abilities are helpful in gaining acceptance to the Special Agent Entry Programs.
Other Qualifications
Newly appointed Special Agents are assigned to one of the FBI's 56 field offices. Therefore, FBI agents must be available for assignment anywhere in the FBI's jurisdiction. FBI Agents must be a U.S. citizen (or a citizen of the Northern Mariana Islands), 23 to 37 years old upon appointment, and possess a valid driver's license. In addition, candidates must meet the Special Agent Physical Requirements and pass an extensive FBI Background Investigation.
Critical Skills
After qualifying for one of the five entry programs, applicants are prioritized in the hiring process based upon certain critical skills for which the FBI is recruiting. These skills may include accounting, finance, information technology expertise, engineering expertise, foreign language proficiency, intelligence experience, law experience, law enforcement/investigative experience, military experience, physical sciences (e.g., physics, chemistry, biology, etc.) expertise, or diversified experience.
FBI Training Academy
All FBI Agent trainees begin their career at the FBI Academy in Quantico, Virginia for approximately 21 weeks of intensive training. During their time at the FBI Academy, trainees live on-campus and participate in a broad range of training activities. Classroom hours are spent studying a wide variety of academic and investigative subjects. The FBI Academy curriculum also includes intensive training in physical fitness, defensive tactics, practical application exercises, and the use of firearms.
FBI Agent Salary
FBI Special Agents enter as GS 10 employees on the law enforcement government pay scale and can advance to the GS 13 grade level in the field, non-supervisory assignments. Promotions to supervisory, management and executive positions are available in grades GS 14 and GS 15 as well as in the FBI Senior Executive Service. Agents also receive locality pay and availability pay - a 25% increase in adjusted salary (base salary + locality pay) due to overtime requirements. With locality and availability pay adjustments, new FBI agents currently earn between $61,100 and $69,900 a year.