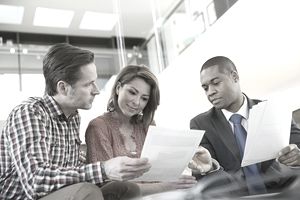 Are you interested in a career as a financial advisor? Here's information on financial advisor jobs, including a job description, educational requirements, and what you can expect to earn.
Financial Advisor Job Description
What do financial advisors do? Financial advisors help clients to create viable plans for managing their finances given individual and family situations.
New Clients
Financial advisors spend considerable time and energy, particularly during the early stages of their career, filling out their client roster by prospecting for new customers.
They meet with prospects and try to convince them to sign on as clients. They engage established clients and interview them to assess their risk tolerance and financial goals.
Investment Recommendations
Financial advisors recommend a mix of investments such as stocks, bonds, mutual funds and real estate to help clients to reach their goals for college savings, retirement and wealth building. They recommend an allocation of assets consistent with the risk tolerance of clients and their life stage.
Where Financial Advisors Work
Financial advisors often work for large financial services businesses though they may be stationed in small local offices for these firms. Many financial advisors operate their own business and work independently or with a few partners. 
Education, Training, and Certifications
Financial advisors need to earn a bachelor's degree to qualify for positions.  Advisors benefit from coursework in economics, mathematics, finance, investments, accounting, and taxation.
Most financial services firms have training programs to equip graduates and career changers with the fundamental knowledge and skills. Financial can enhance their credibility with clients by earning a financial planning certification like the Certified Financial Planner Designation (CFP).
Financial Advisor Salaries
According to the Bureau of Labor Statistics, financial advisors earned an average of $90,530 in 2016.
The top 10% of financial advisors earned at least $208,000 while the bottom 10% earned less than $41,160. Financial advisors working for investment firms earned higher than average salaries and advisors working for community banks and credit unions tended to earn lower than average salaries.
Performance Based Compensation and Bonuses
Advisors who are employed by financial services firm often receive bonuses, and that compensation is not included in these figures.  Compensation is tied directly to productivity in terms of fees for products sold, assets managed and/or the number financial plans generated.  
Since pay and job security are heavily based on performance, there is a high washout rate for new advisors who are unable to meet the challenge of building a viable roster of clients.
Financial Advisor / Planner Skills
Here's a list of skills financial planners and advisors need for resumes, cover letters, job applications and interviews. Required skills will vary based on the job for which you're applying, so also review our list of skills listed by job and type of skill.
A - C
Accounting
Accuracy
Active Listening
Advising
Analysis
Analytical
Analyzing Stock Market Trends
Assessing Risk Tolerance
Balancing Risk and Reward
Budgeting
Building Relationships
Client Meetings
Client Service
Cold Calling
Collaborating
Communication
Compliance
Compliance Standards
Consulting
Coping with Setbacks
Counseling
Creating Portfolios
Critical Thinking
Customer Service
D - I
Detail Orientation
Entrepreneurial
Estate Planning
Evaluating Client Needs
Explaining
Facility with Computer Software
Filling Out Forms and Applications
Financial Analysis
Financial Planning Certification
Financial Planning Tools
Financing College
Flexibility
Industry Rules and Regulations
Industry Standards
Influencing
Instructing
Integrity
Interpersonal
Interpreting Research Reports
Investments
Interviewing
M - P
Managing Portfolios
Marketing
Mathematical
Microsoft Excel
Motivation
Networking
Ongoing Learning
Organizational
Performance Management
Persistence
Placing Trades
PowerPoint
Presentation
Problem Solving 
Promotion
Prospecting for Clients
R - W
Recommending
Recruiting
Research
Resiliency
Retirement Planning
Sales
Self Directed
Simplifying Complex Concepts
Social Media Marketing
Strategic Thinking
Stress Management
Supervising
Tax Planning
Time Management
Training
Verbal Communications
Wealth Management
Working Independently
Written Communications
Writing
Employment Outlook
According to the Bureau of Labor Statistics, employment of personal financial advisors is projected to grow 15 percent from 2016 to 2026, much faster than the average for all occupations.
Factors impacting growth include an aging population of retirees in need of help with financial planning and the trend towards self-managed retirement resources in lieu of company controlled pensions. The expanded use of automated planning resources may limit the growth of opportunities for financial advisors. 
Quick Facts: Financial Advisor (Occupational Outlook Handbook) 
Related Articles: Salary Comparison Tools | Salary Calculators |Top 20 Highest Paying Jobs