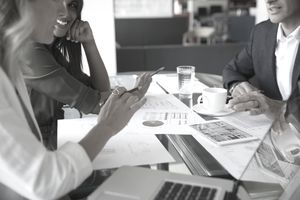 Keywords are an important component of a resume and of a cover letter because hiring managers use the words and phrases to screen job applicants. In fact, sometimes companies use computer software to scan applications for important job-related keywords. That means if those keywords aren't present on your resume and/or cover letter, your application may not even be viewed by a person. 
Find details on how to include keywords throughout your application, plus keywords to have in mind if you're applying for a financial position.
Tips for Using Keywords
Given the importance of keywords, should you transform your resume into a bulleted list of them? Not exactly! Instead, you should be smart about including the keywords so that both your resume and cover letter read naturally. Here are some tips for including keywords throughout your application: 
Have a skills section on your resume: One straight-forward way to ensure that essential skills make it onto your resume is to have a skills section, which lists both hard skills (e.g., technical programs, languages, etc.), soft skills (e.g., leadership, detail-oriented, etc.) and job-related skills that pertain to the job at hand. If you're applying for a financial position, you'll want to mention the skills listed below that you possess. Here's more information on what to include in a resume skills section. 
Include keywords elsewhere in your resume, too: Including keywords in your skills section can help guarantee that software picks them up.
However, if you're looking to appeal to a hiring manager, it's more compelling to include the keywords in your experience section, where you can connect them with achievements and responsibilities. See more advice for including keywords throughout your resume. 
Target keywords from the job posting: Which keywords should you include?
This shouldn't feel mysterious. Employees reveal the most valuable skills on the job posting, often in the qualifications section. Make sure to mention these skills and relevant on your resume and cover letter. Keep in mind, you don't have to use the exact same phrasing. It's highly effective to can draw a connection between the keyword and your experience with it. For instance, if the job posting lists "creating budgets," you might say, "In my position at ABC I created the annual budget for the 60-person company, tracking expenditures and adjusting as needed." 
Here is a list of financial keywords for resumes, cover letters, and job applications.
Accounting and Audit Skills 
Many financial jobs require some who can run a company's basic finances, from managing the books to issuing payments to creating budgets to preparing and running audits. Here are some keywords to consider including: 
Accounts Payable
Accounts Receivable
Cash Flow Statement
Cash Management
CPA (Certified Public Accountant)
Clean Audit
Creating Budgets
Depreciating Assets
Developing Financial Statements
Expediting Collection of Accounts Receivable
Generally Accepted Accounting Principles (GAAP)
Generally Accepted Auditing Standards (GAAS)
Hyperion Financial Management
Income Statement
Minimizing Taxes
Managerial Accounting
Reconciling Accounts
Reducing Expenses
Regulatory Accounting
Sarbanes Oxley
Trial Balance
​Detail Oriented
Mistakes in financial positions are a big deal, so employers are eager to find detail-oriented candidates who can always dig up the exact paperwork they need and can track expenses down to the last penny. Achieving certifications helps demonstrate this dogged, diligent attitude. See below for certifications to mention along with other keywords: 
Accuracy
Advanced Proficiency in Excel
CPA (Certified Public Accountant)
MBA
Series 7 License
Series 63 License
Trial Balance
​Analysis 
Working in finance can require comfort with analysis — employees may need to read and evaluate spreadsheets full of numbers to see if expenditures or investments make sense.
Here are some relevant keywords: 
Analyzing Credit Worthiness
Analyzing Expenditures
Analyzing Financial Statements
Analytics
MBA
​Financial Planning 
Some companies are looking to fill finance positions that involve long-term planning and assessing the risk and opportunity involved in various financial moves. These are some keywords for this type of position: 
Asset Allocation
Assessing Financial Risk
Business Valuations
Calculating Adjusted Present Value
CFA (Chartered Financial Analyst)
CFP (Certified Financial Planner)
Conducting Value Added Analysis
Creating Financial Models
Establishing Financial Controls
Estimated Costs for Projects
Evaluating Options to Finance Expansion
Financial Engineering
Financial Planning
Financial Projections
Fixed Asset Accounting
Hedging for Commodities Price Fluctuations
Measuring Performance
Negotiating Contracts
Orchestrating IPOs
Orchestrating Mergers and Acquisitions
Percentage Change Financial Statement Analysis
Performing Cost Benefit Analyses
Price Earnings Ratio
Pricing Initial Public Offerings
Quantitative Analysis of Stocks
Quick Ratio
Rebalancing Portfolio
Return on Assets (ROA)
Return on Equity (ROE)
Return on Investment (ROI)
Read More: Cover Letter Keywords | Resume Keyword Examples | How to Use Resume Keywords