Going Back to Work When Your Kids Start School
Dealing with practical matters when you go back to work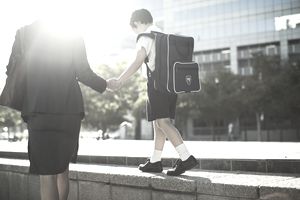 Some parents decide to take a hiatus from work when their children are born. They plan to return to work when their children have all started school. Some wait a little longer, perhaps until their children are old enough to be home alone after school.
Whether you go back to work when your child is starting kindergarten, high school, or college, you'll have many decisions to make at that time. Will you work full time or part time? Who will take care of the kids after school, on school holidays, half-days, or if they get sick? If your child gets sick or hurt in school who will pick him up? Will you go back to the career you left X number of years ago? If not, what career will you choose? Will you want to or need to go back to school?
How to think about the big questions
These are big questions with answers that require serious and careful consideration. Whether you decide to work full time or part time is a very personal decision, similar to the one you made about staying home in the first place. You and your family must make the decision based on the needs of everyone involved. You may decide that working only during school hours or when your spouse is available is your best choice. You may decide to jump right in and work full time. Then you have to consider after school childcare.
You can hire a private babysitter or enroll your child in an after-school child care program.
So now that regular school days are taken care of, you'll have to figure out what you're going to do on school holidays and half-days. Of course, you can take care of those days on a case-by-case basis, but wouldn't it be nice to know what you're going to do in advance. You may be able to arrange your work schedule around your child's schedule. Maybe you have personal days you can use or maybe you can use vacation days if your new employer allows it. You may be able to make arrangements with a friend or relative.
If everything goes as planned you'll be all set. But how often does that happen? Kids get sick every now and then (more "now" it seems than "then"). Whether you know your child is sick before you leave for work or if she gets sick in school, you'll have to make some last minute arrangements. Some bosses may be cooperative and allow you to take time off. Some employers even have family sick days that give parents days off to take care of a sick child. Many employers, unfortunately, are not that flexible.
Plan for the unexpected. You can make arrangements so someone is available to take care of your sick child, which may include picking him up from school. Or, if you can't find someone to do this, make arrangements with your boss so you can do it yourself. Perhaps your boss will let you work from home or make up any time you miss because of your child's illness.
Where are you going?
After you've considered all the practical stuff, it's time to think about where you want your career to go. Will you go back to what you were doing before or will you start anew? Let's take a look at those considerations next.
When you decide that it's the right time to return to work you must decide whether you want to return to the same career. Many people do, while others decide that this is the perfect time to make a career change. Whether you've taken off five years or fifteen there's a good chance there have been some changes in your field since you last worked. Have you kept up with those changes? Hindsight is 20/20 as they say, but it probably would have been a good idea to have kept up with your field. If you didn't it's not too late.
If you decide to continue in your old career, you should do a little research to find out what has changed and what you need to know to compete for jobs with those who never left or even with those who are just starting out. You might decide to take another year or so off to take some courses.
Maybe you don't think it's worth your while to get the training necessary to continue in your former career. You may have discovered other interests during your hiatus and you want to look into a different career. Or maybe your chance of getting a job in your previous field are slim due to changes in the market. In that case, you will have to decide what career choice to make.
Fortunately, there are many resources to help you do that. You can meet with a career development professional who will do a self-assessment which looks at your values, interests, skills, and personality in order to determine what careers you are best suited for. Together you'll consider these options and ultimately come up with your future occupation.
Once you have come up with a list of possible occupations, you can begin to explore them, using published resources as well as informational interviews. Informational interviews involve speaking to people who work in the field in which you are interested.
Eventually, after learning enough about the various options, you'll pick one. You may have to earn a degree or certificate, learn some new skills, and brush up on some old ones before you can actually enter your chosen field. You've taken time off for your family, now it's time to do something for yourself. Good luck.