Government Job Profile: Texas Ranger
Ranger positions are limited to those who are already DPS Troopers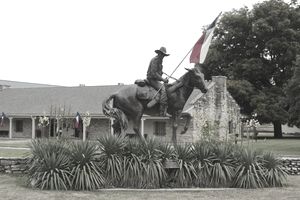 The Texas Rangers have a mystique all their own. From watching roundhouse kicks by Chuck Norris on the television series Walker, Texas Ranger to reading about the adventures of Augustus McCrae and Woodrow Call in Larry McMurtry's Lonesome Dove series, many people have grown up with a sense of awe over the Texas Rangers.
It's not unfounded. This is an elite group of law enforcement personnel. 
Texas Rangers Then and Now 
The Texas Rangers have morphed since their formation by Stephen F.
Austin in 1823. They began as a small group who came together to protect their fellow colonists. Today's Texas Rangers are a respected law enforcement unit who lead criminal investigations in major crimes, unsolved crimes, serial crimes, public corruption, officer-involved shootings, and border security.
The Texas Rangers are a division within the Texas Department of Public Safety. Of the division's 216 employees, 150 are commissioned peace officers. As of 2017, the average Ranger is about 44 years old. DPS does little recruiting for Ranger positions. They often have more than 100 applicants compete for just a handful of ​vacancies.
The Selection Process
Ranger positions are only open to current DPS troopers who have achieved the rank of Trooper II. Applicants must hold a valid and unrestricted Texas driver's license, be at least 20 years old, and be U.S. citizens. They're investigated through a comprehensive background check to ensure that they "reflect good moral character and habits," according to the Texas Rangers website.
Ranger applicants must pass a written exam. Those with the highest scores progress to an Oral Interview Board and final selections are made by the board.
The Education and Experience You'll Need
The same minimum requirements that apply to becoming a trooper also apply to the Texas Rangers. Remember, those applying to become Rangers must be currently employed as DPS troopers.
They have either 90 semester hours of college credits or three years of military or law enforcement experience. Individual rangers have varying levels of education.
Applicants for the Texas Rangers must also have eight years' experience in law enforcement with an organization whose principal function is investigating crimes. Service as a military police officer does not count toward this requirement.
What You'll Do If You're Selected 
The primary function of the Texas Rangers is investigating crimes. Every Ranger is involved in criminal investigation no matter how high she climbs in the hierarchy. 
The Rangers have several specialized teams and units to deal with specific situations that come up in criminal investigations. They include: 
Special Weapons and Tactics (SWAT) Team
Explosive Ordnance Disposal (EOD) Unit
Ranger Reconnaissance Team
Special Response Teams (SRT)
Crisis Negotiation Teams (CNT)
Border Security Operations Center (BSOC)
The Texas Rangers have six field offices located in Houston, Garland—in the Dallas-Fort Worth area—Lubbock, McAllen in the Rio Grande Valley, El Paso, and San Antonio.
Ongoing Training
Texas Rangers must attend a minimum of 40 hours of in-service training every 24 months.
They can opt in for additional training as well, such as in the growing field of investigative hypnosis.
What You'll Earn
The Texas Rangers are a small group and there are several levels within the organization so it's difficult to pinpoint a specific, single salary range for this position. However, they are paid according to the Texas State Trooper salary schedule for different levels of advancement so this provides a good guideline. 
DPS troopers make just under $60,000 annually during their probationary period and upon being commissioned. Beyond that time, troopers typically earn from $73,000 at the Trooper I level up to $107,000 after 20 years of service. Sergeants and agents earn more than these base figures. 
Given the high level of experience required, many rangers' salaries far exceed these numbers.
Standard benefits also mirror those available to DPS troopers.