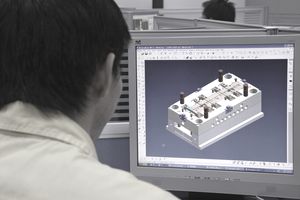 A graphic designer uses visual elements to communicate messages through print and electronic media. He or she develops designs for magazines and newspapers, websites, packaging, video games, promotional displays, and marketing materials. Graphic designers work for advertising, publishing and design firms. Some are freelancers, which means they work on a job-by-job basis, usually for different clients.
Quick Facts
Graphic designers earned a median annual salary of $46,900, or $22.55 hourly, in 2015.
In 2014, 262,000 individuals worked in this occupation.
Graphic designers are employed by specialized design services firms, advertising agencies, publishers, and printers.
Most jobs are full-time, but you can expect to work longer hours at times to meet deadlines.
About 20% of all graphic designers are self-employed.
Employment growth in this occupation, according to the U.S. Bureau of Labor Statistics, is expected to neither increase or decline through 2024. 
A Day In a Graphic Designer's Life
To learn about graphic designers' duties, we looked at job announcements on Indeed.com. Here's what we found:
"Prepare all production art files for manufacturing"
"Take direction from creative services manager and senior graphic designer to complete design briefs as instructed"
"Lay out newspaper using Adobe InDesign while following company's design guidelines"
"Create accurate graphics, charts, and maps that visually support and supplement editorial stories"
"Manage and traffic large complex projects from start to ship"
"Participate in and contribute to an interdisciplinary team that includes other designers, developers, and managers throughout all phases of the development cycle with a focus on refining the visual style of projects"
Education and Training Requirements
If you want to pursue this career, you should earn a bachelor's degree in graphic design. If you already have a degree in another major, you can instead get technical training in this subject.
Even after you land a job, you must keep abreast of new trends in design and changes in consumer tastes. You will also have to stay up-to-date on new software. Many software vendors offer certification to designers who have been trained to use those programs.
What Soft Skills Do You Need?
In addition to formal education and technical skills, one also needs certain soft skills, or personal characteristics, to succeed in this occupation.
Creativity: As a graphic designer you will have to be able to come up with new ideas.
Listening: Excellent listening skills will allow you to understand your clients' needs.
Verbal Communication:  You must also be able to clearly present your ideas to clients.
Active Learning: You will need to keep up with the latest technology which will require learning new software and techniques.
Decision Making: You will have to decide how to best communicate your clients' messages.

Time Management: Tight deadlines require the ability to prioritize your work.
What Employers Will Expect From You
You may be wondering what qualities employers want job candidates to have. Again, we consulted Indeed.com:
"Ability to multi-task and complete jobs in a timely manner"
"Ability to work well with a team or independently"
"Possession of creative flair, versatility, conceptual/visual ability and originality"
"Have excellent organizational and communication skills"
"Comfortable working under tight deadlines, executing ideas quickly and competently through multiple iterations"
"Strong attention to detail"
The Difference Between a Graphic Designer and a Desktop Publisher
People often confuse these two occupations and it not surprising that they do. There are definitely similarities. Graphic designers and desktop publishers both use desktop publishing software to create messages in print or electronic media.
Graphic designers are responsible for developing the concepts while desktop publishers just implement them. The educational requirements for each reflect the differences in responsibilities. Desktop publishers, unlike graphic designers, need only an associate degree. Both must be well versed in the software used to produce materials.
Is This Career a Good Fit for You?
Occupations With Related Activities and Tasks
| | | | |
| --- | --- | --- | --- |
|   | Description | Annual Salary (2015) | Educational Requirements |
| Art Director | Creates the design for print and electronic media and supervises other artists | $89,760 | Bachelor's degree |
| Photographer | Uses images to tell stories about people, places, and events. | $31,710 | Ranges from technical training to a Bachelor's degree |
| | Creates series of images that make up movies, tv shows, commercials, and video games. | $63,970 | Bachelor's degree |
Sources:
Bureau of Labor Statistics, U.S. Department of Labor, Occupational Outlook Handbook, 2016-17 (visited January 26, 2017).
Employment and Training Administration, U.S. Department of Labor, O*NET Online (visited January 26, 2017).